If you have any charts you will like charted please comment below or on my twitter  @RealLifeAxelrod (click to follow)
THIS IS TOO LONG FOR EMAIL AS SUBSTACK WARNS ME… SO OPEN IN INTERNET BROWSER - To See Charts etc. Thank You
To get notified of Intra Day Charts and SubStack Articles join my notifications in Telegram Free of course :) I don't believe in charging for groups. Will be releasing all my indicators I coded and chart layout as many have asked but will do it with conjunction of a tutorial on how to use Volume Profile once we hit 250 subscribers are at 152 subscribers now! -Join AXELORD Telegram for notifications
---
The Overview
Not off to a great start of the week. We have CPI Wednesday which could be good and we bounce or bad and we drop further. /ES went below 4,000 first time since April 2021 and may go lower.
KEY TERMS THAT WILL BE USED IN THIS ARTICLE:
POC - Point of Control
PD - Previous Day
PW - Previous Week
VH - Value High
VL - Value Low
LIS - Line In The Sand
---
The following stocks that I will cover are: ES same as (SPY) /VIX / QQQ / NQ / AAPL / MSFT / AMD / NVDA / TSLA / AMZN  (these are the main stocks I will post levels for in every sub stack!)

****YOU CAN SCROLL THROUGH TO A SPECIFIC STOCK TO READ THOSE LEVELS.****
🐦 BIRD'S EYE VIEW -  🩸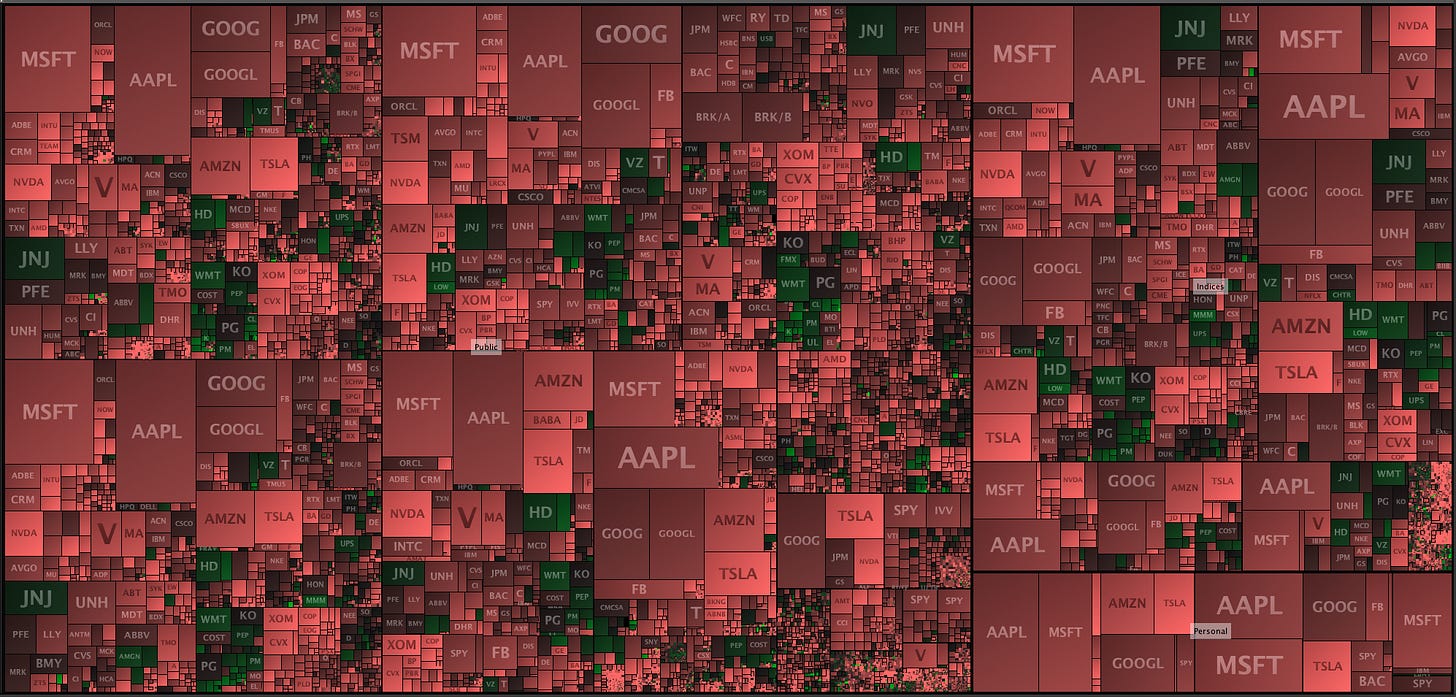 ---
Stocks We Will Be Reviewing
- Top: SPY / ES / VIX - Bottom: QQQ / NQ / UVXY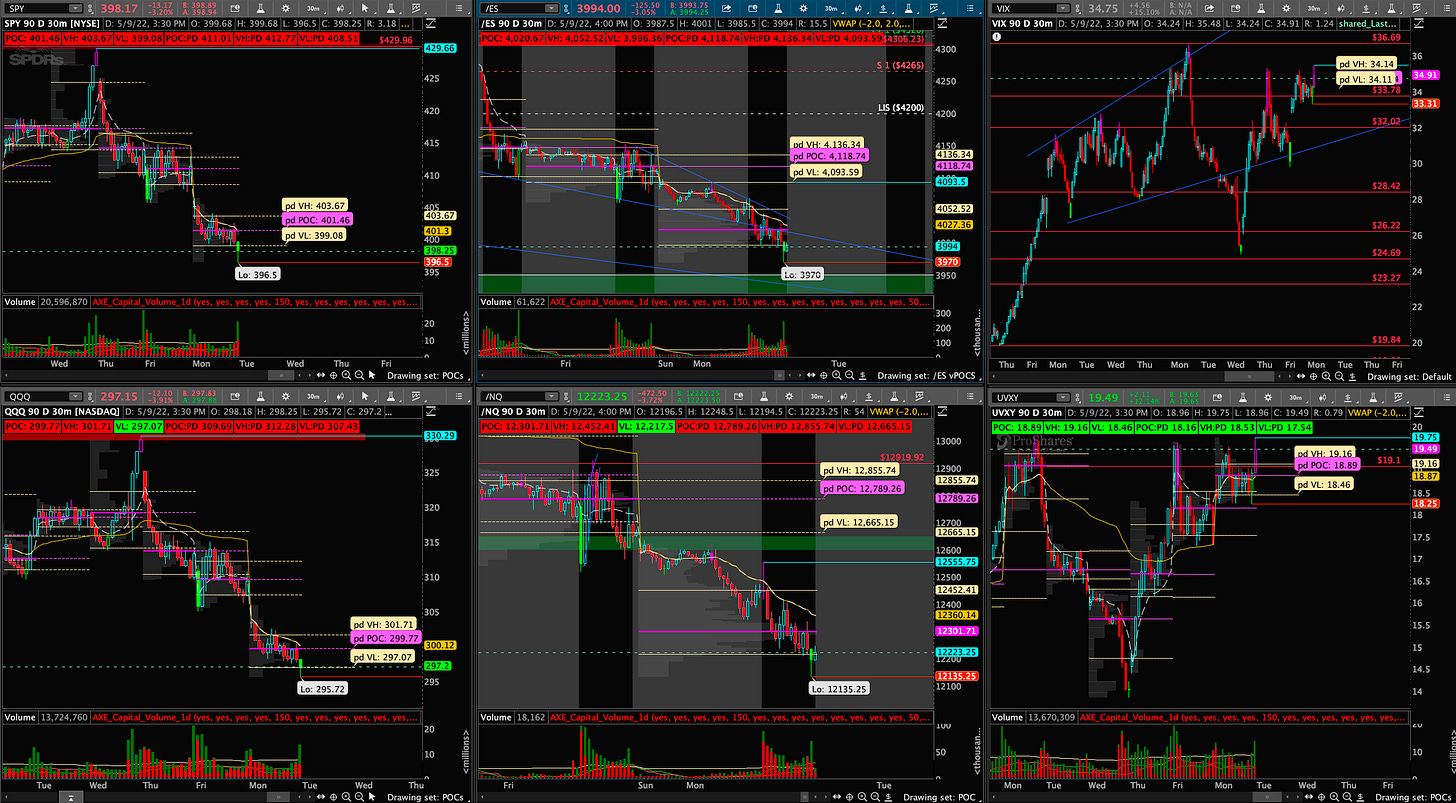 Top: AAPL / MSFT / TSLA - Bottom: AMD / NVDA / AMZN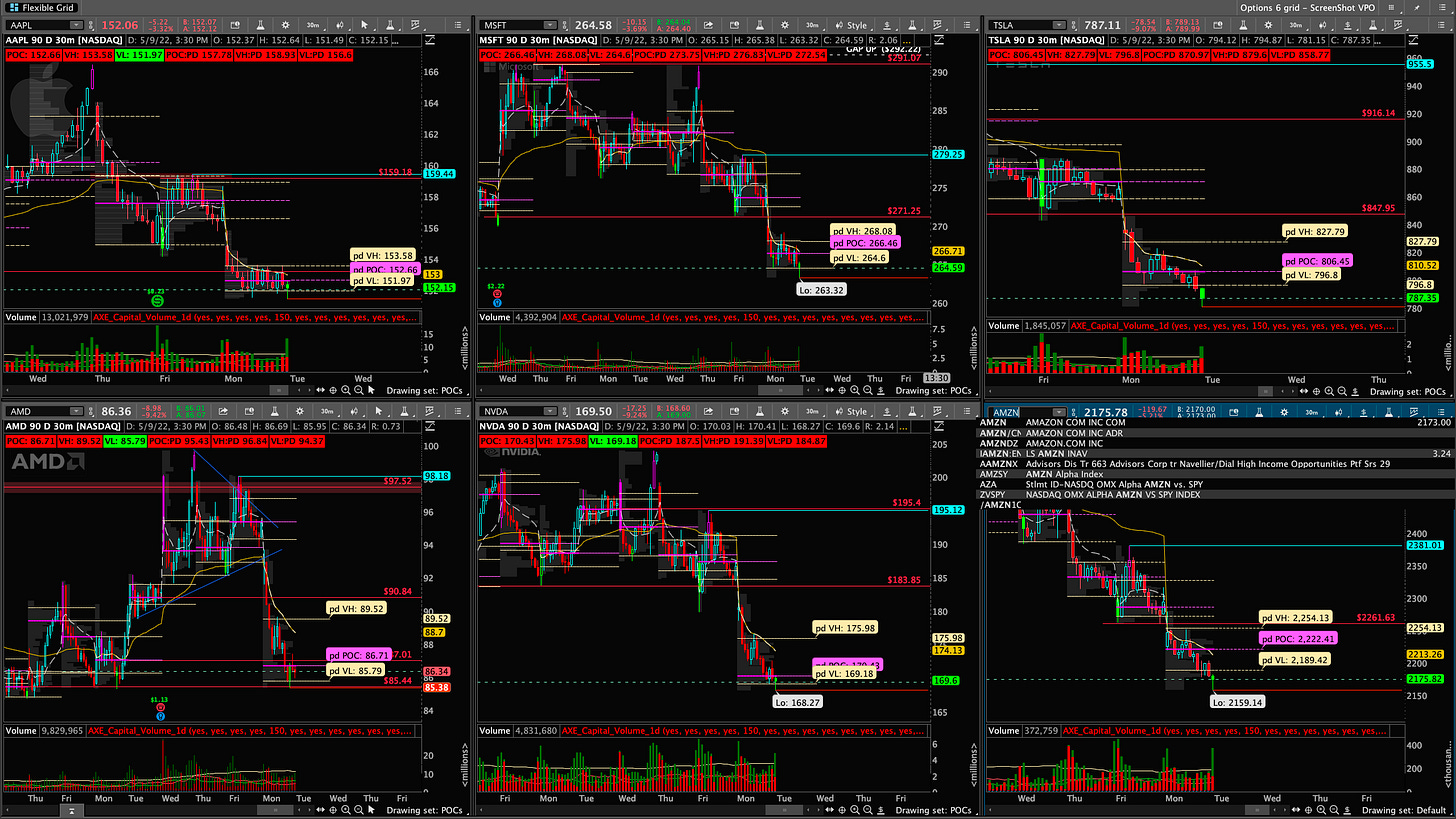 The Breakdown
---
/ES (same as SPY)
Just ugly. In the first few minutes of open we had a quick pop to my upper trend line near 4070 and rejected perfectly and came below Daily/Weekly VWAP. It was also a retest of Friday VL 4,093 which we was rejected and signified we were most likely coming down today. Closed below POC and VL which does not signify any strength into tomorrow. Only had 2 bounces today and both came up to the Daily VWAP and rejected both times. Very short lived.

Tuesday Game Plan:
OPEN Above POC -24020 - We could push higher to retest VH 4050 range and then try to crack 4100 but I think a lot of sellers wait around those two levels as every pop today was just brutally shorted.
OPEN Below POC - 4,020 - Will watch for continued downside watching for 3,970 area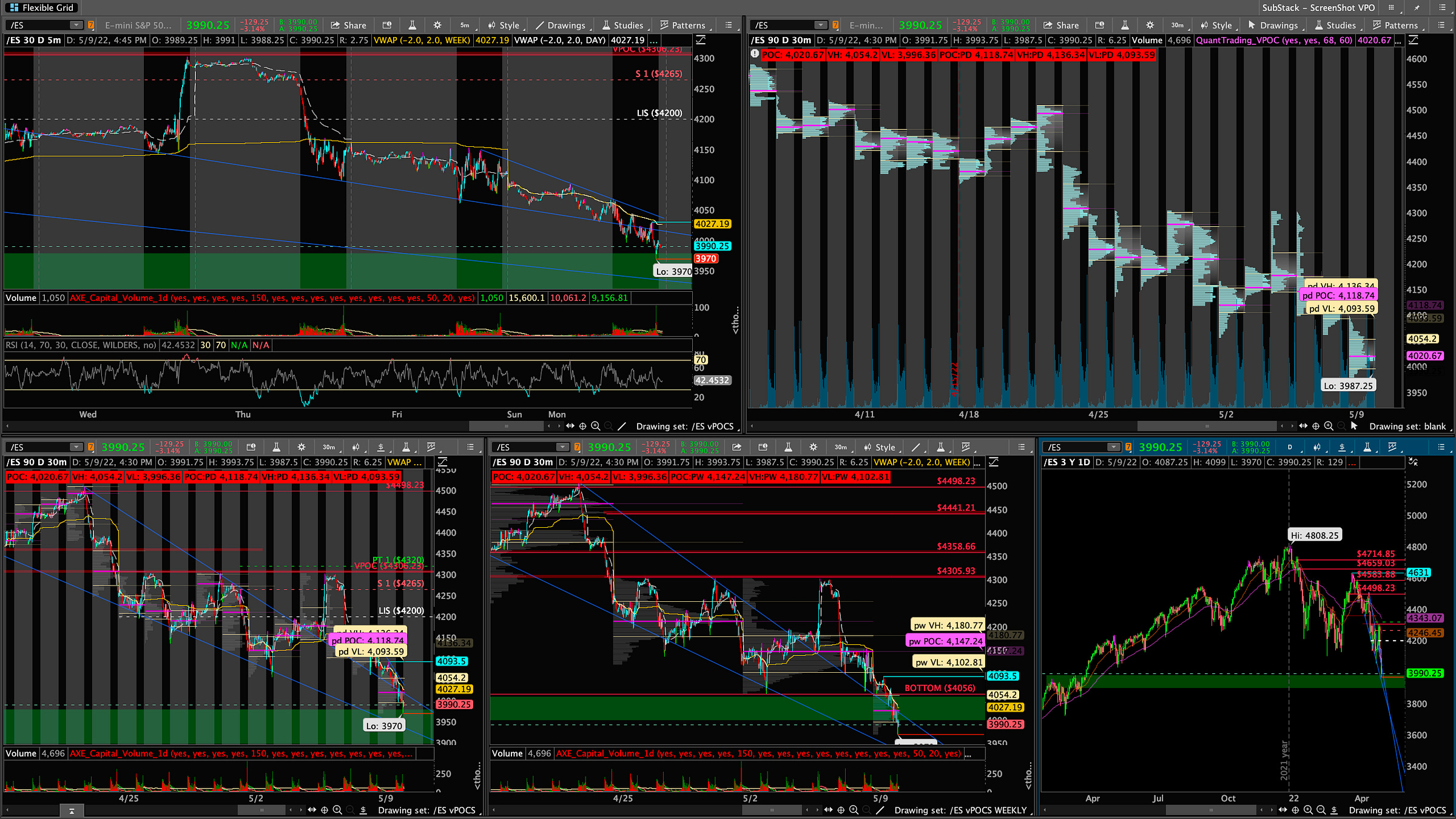 ---
VIX
Traded in a tighter range then Friday hanging around 33s/35s.
Tuesday Game Plan:
35.48 Level - was HOD today and will be the first level to break through and go for the 36.69 retest which is prior resistance.
33 - Below 33 we could see it start to pull back to 32 > 28

---
QQQ
Followed /ES and just couldn't hold 300 level for it life closing at 297.15
Tuesday Game Plan:
OPEN Above POC - 299.77 - Unless we manage to gap up unlikely. We could retest POC tomorrow though during RTH and try to get back to 307 which is Fridays VL
OPEN Below POC - 299.77 - Like we stated Friday we could see 297 and we did we saw 295. From here we could see 293 then 285

Gap to fill 280.62 to 276.82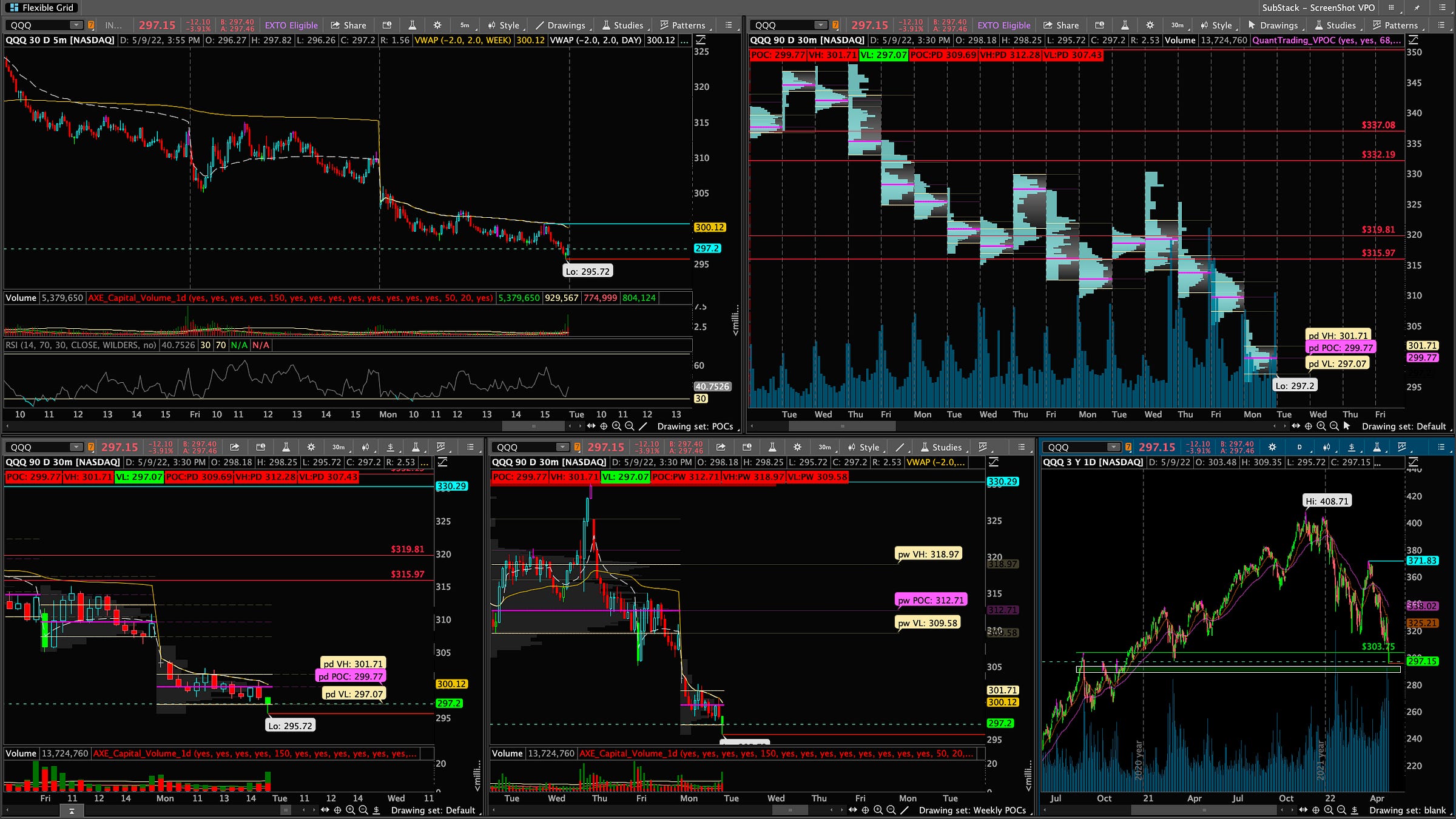 ---
/NQ
Straight Gap Down and here we are at 12,135.25 LOD.  Will 12,200 hold or 11,500 trade next?

Tuesday Game Plan:
OPEN Above POC - 12,301.71 - If hope we get a gap up we could work our way up to 12,500 level which may be difficult to get over. If so, 12,776/12,800 zone trades which is Fridays POC and last week's VL.
OPEN Below POC - 12,301.71 - We are looking at more pain till 11,500/11,600 zone.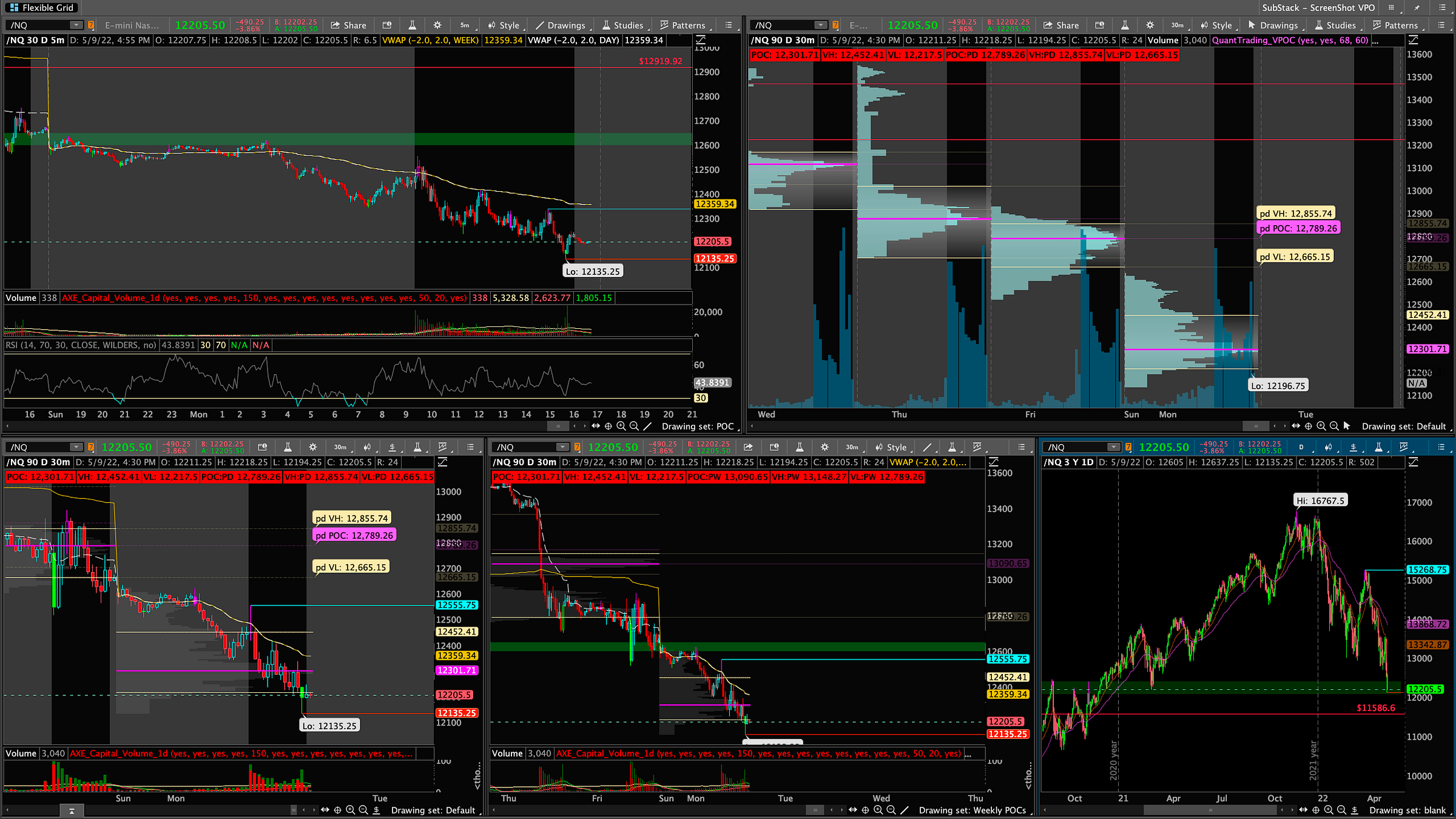 ---
AAPL
Just a slow pullback all day after a gap down like everything else. That 153 Level it flirted with all day, over then back under then over under etc. It hasn't made up its mind if it will continue down more or it wants a relief bounce first. 151.06 is an untouched POC below that may get tested sooner than later.
Tuesday Game Plan:
OPEN Above POC - 152.66 - If we get over POC we could see 154 > 155 > 157 which is last week POC and Fridays POC 157.52
OPEN Below POC - 152.66 - Watching for that 151.49 untouched POC to be tested. It may go past it a bit but could possibly see a short bounce from that level back to POC from today 152 zone then up. Below 151 could be a slow grind down 147.55 > 144.80 > 141.60 > 139

Gaps That May Be Filled:
1st Gap: 143.88 > 141.40
2nd Gap: 137.75 > 137.41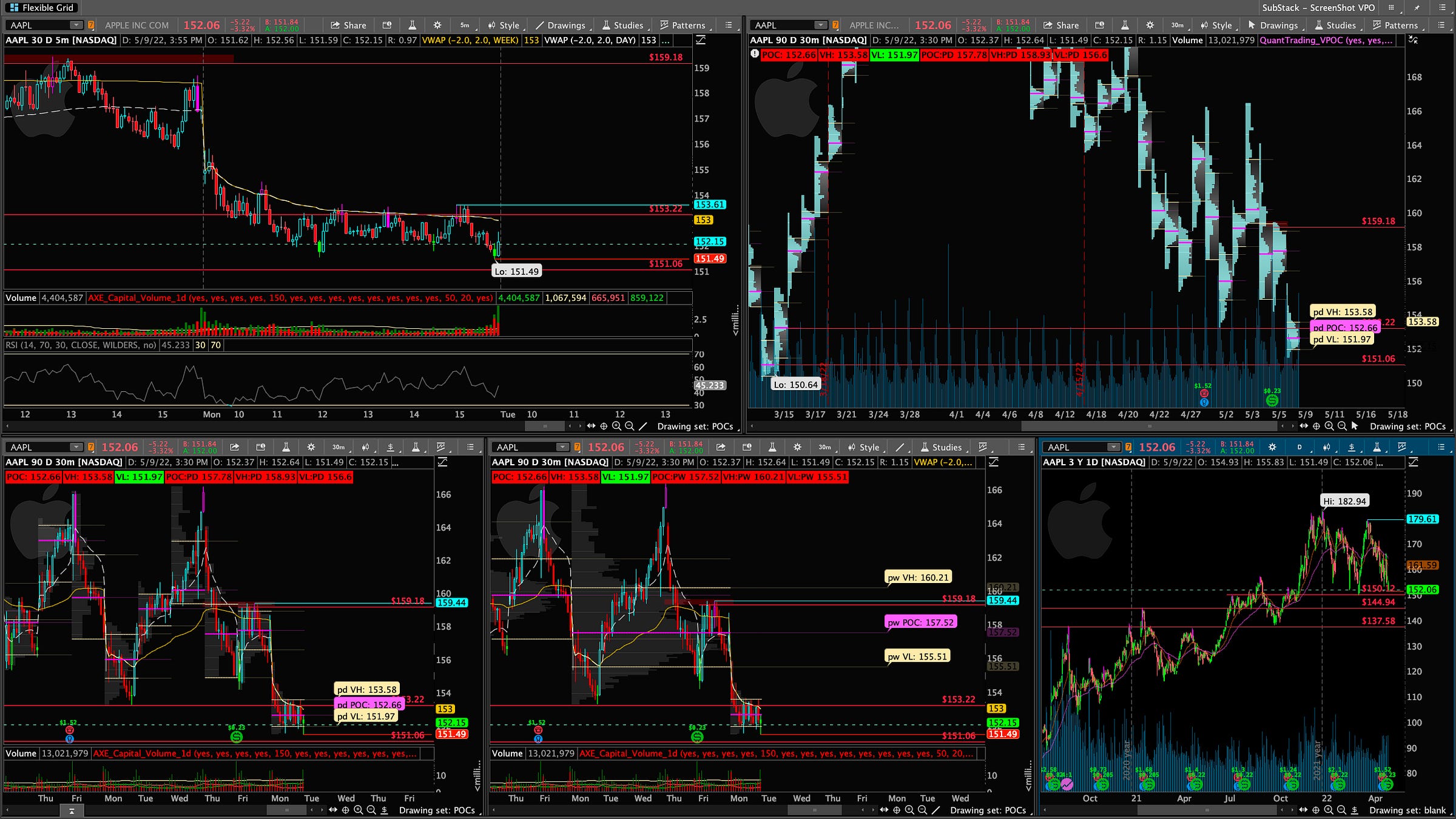 ---
MSFT
271 Gone. MSFT just decided to dive down and head straight for the 260 support mentioned Friday. Hit a low of 263.32.
Tuesday Game Plan:
OPEN Above POC - 266.46 - Will need to see this 261 to 263 zone hold for a bounce. If we gap up over POC we can see 268.98 and retest of that 271 key level to make a move to 275.78 which is last week VL. Those levels are also in play if we manage to get over Monday's POC 266.46 during RTH until otherwise today's POC will be resistance.
OPEN Below POC - 266.46 - Looks as if this will happen our first order of business is to see if we can test 261.44 zone. Below that not much support till 251.28 > 246.07 > 238.71 are levels to the downside.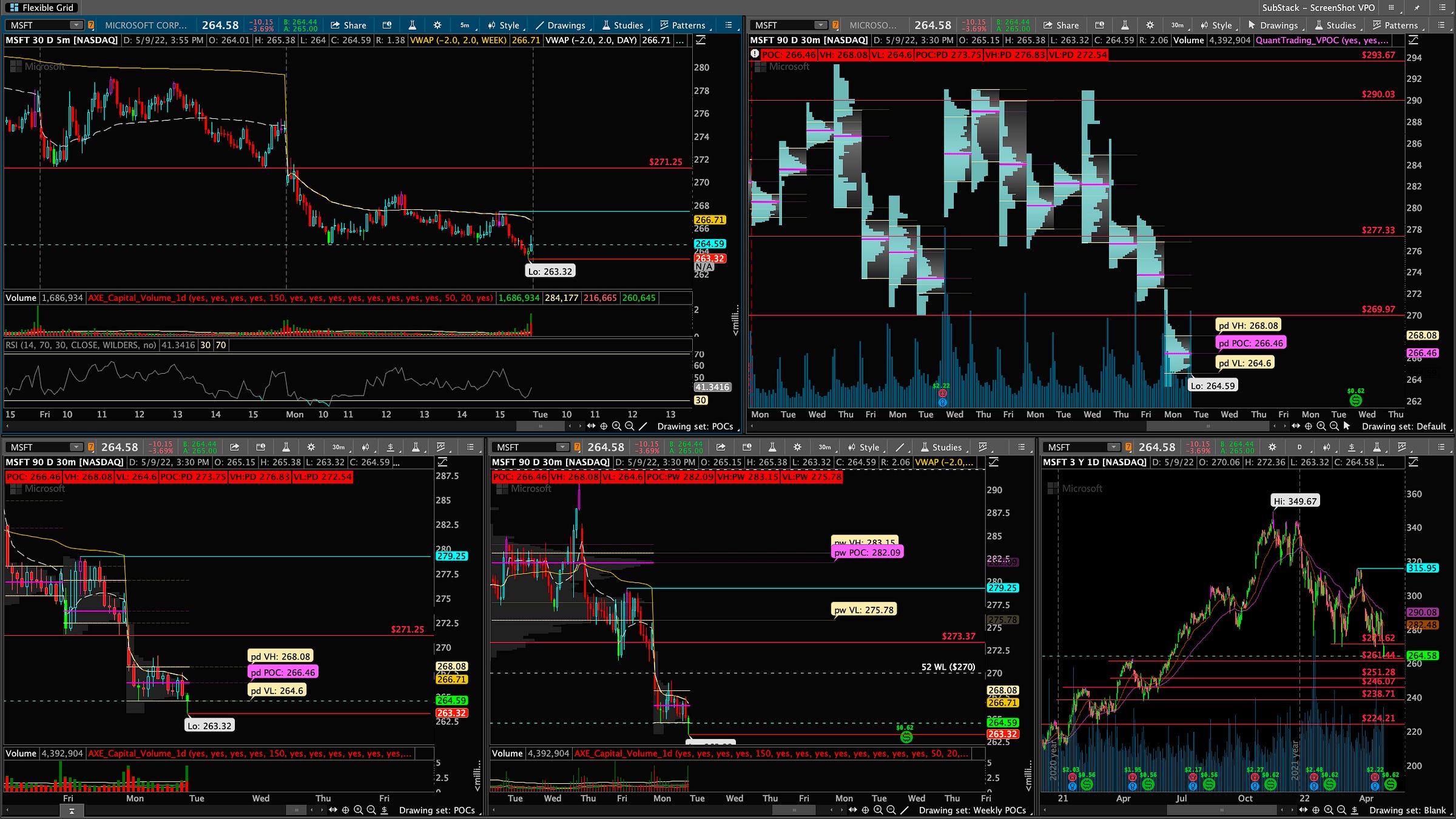 ---
AMD
Failed setup. With overall marketing just dragging down everything these bullish technical patterns will not workout sometimes. As patterns are nice to see and spot but know they can break to the downside - failed setup or to the upside - successful setup. Not every time will it work out picture perfect and this is an example of that.
Tuesday Game Plan:
OPEN Above POC - 86.71 - We closed right below POC .05 cents lower… yet again lol. However, if we gap up Tuesday pre-market and if the whole market decides to rip up on a relief bounce we could see the following levels tapped. 89.52 (Monday VH) > 91.70 (weekly VL)  and of course 95.50 which is now an untouched POC (since it hasn't been retested) which is Friday's POC.
OPEN Below POC - 86.71 - we have 85.47 a POC from a few weeks ago that we bounced off of that may provide some support. Otherwise POCs that are untouched to the downside are: 83.79 > 82.63 > 80.32 > 78 > 73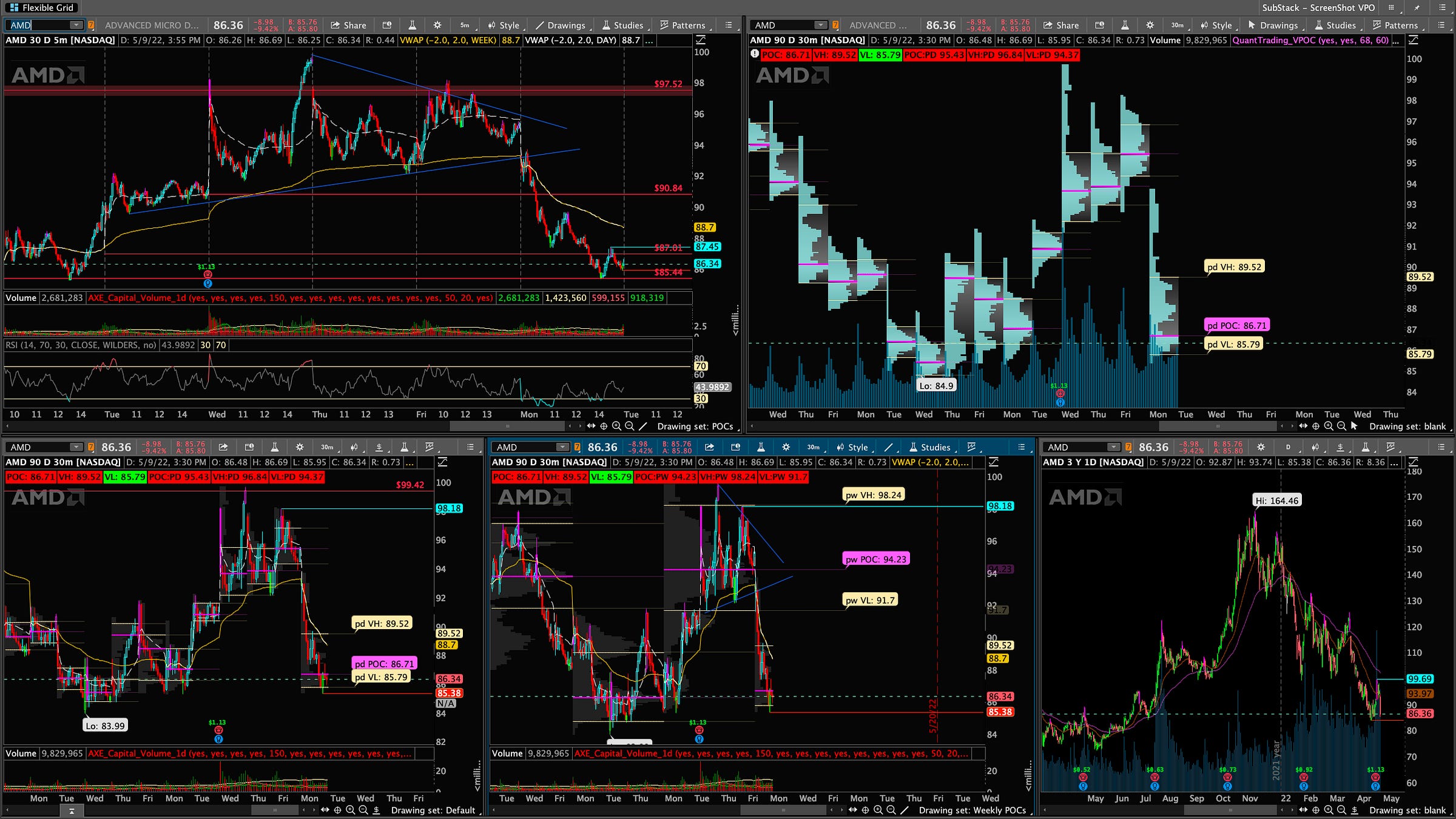 ---
NVDA
Gapped down below Friday's POC we sliced down $17. Tried to bounce and just rejected VWAP hard.  

Tuesday's Game Plan:
OPEN Above POC - 170.43 - To the upside if we can get through VWAP 174.13 we could see 175.98 (Monday VH) > 182 where sellers may be again. If we can get through that 185.
OPEN Below POC - 170.43 - Not much support here. Hanging in the middle and could see 160.80 > 155.51 > 150.27 > 145 > 139.07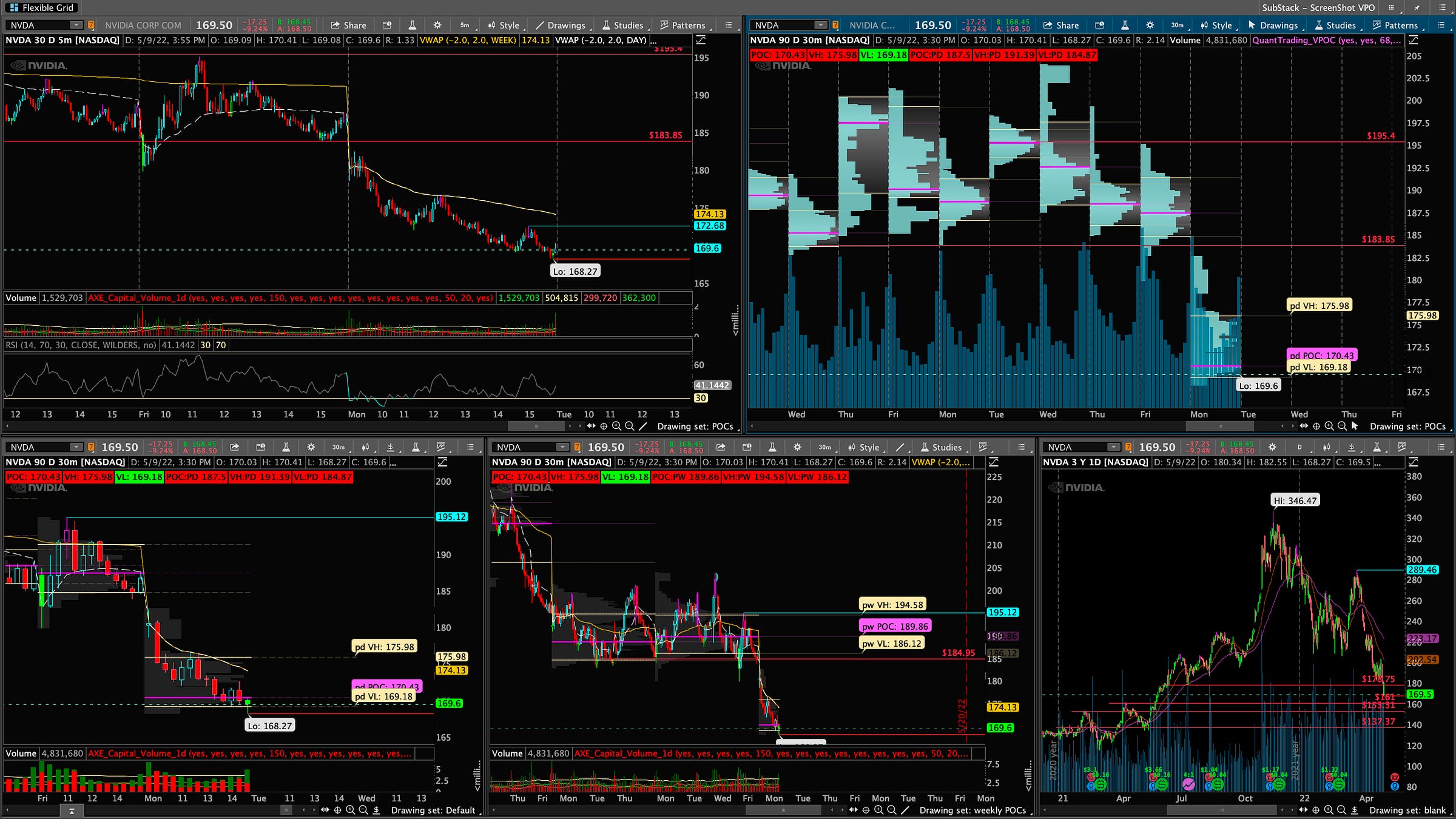 ---
AMZN
2,258.12 - Friday's LOD seems to be the zone AMZN doesn't like as we rejected it mid day and headed lower and cracked 2,200. We hit 2,159.14 making yet another new low for 3 days in a row since 2,400s.
Tuesday Game Plan:
OPEN Above POC - 2,222.41 - Unlikely, but here are levels to watch for upside if we manage to get over POC. 2261 > 2,286 (Friday POC) > 2,328 (Friday VH). If we can enter back into last week VL 2,342 we could see a relief bounce to 2,431 (untouched POC)
OPEN Below POC - 2,222.41 - Since we closed below VL at 2,189.42 we will most likely open below POC. With that being said, 2,125s could be tested then 2,100 however, we have this wedge down here and trading in a tighter range so could see a relief bounce sooner than later if it plays out. Not all patterns have to work out perfectly but something to keep on watch.
---
TSLA
Not looking so hot but getting close to my 756 level which may provide some support.
Tuesday Game Plan:
OPEN Above POC - 806.45 - Unlikely since we closed below VL at 796.80 however, It's Tesla could have news we never know as Tesla just does it's own thing sometimes. Anyway levels to watch for upside over POC before open of during RTH - 827.79 > 850 > 872 (untouched POC)
OPEN Below POC - 806.45 - We see 763/756.32 untouched POC if it holds. If not 728 > 700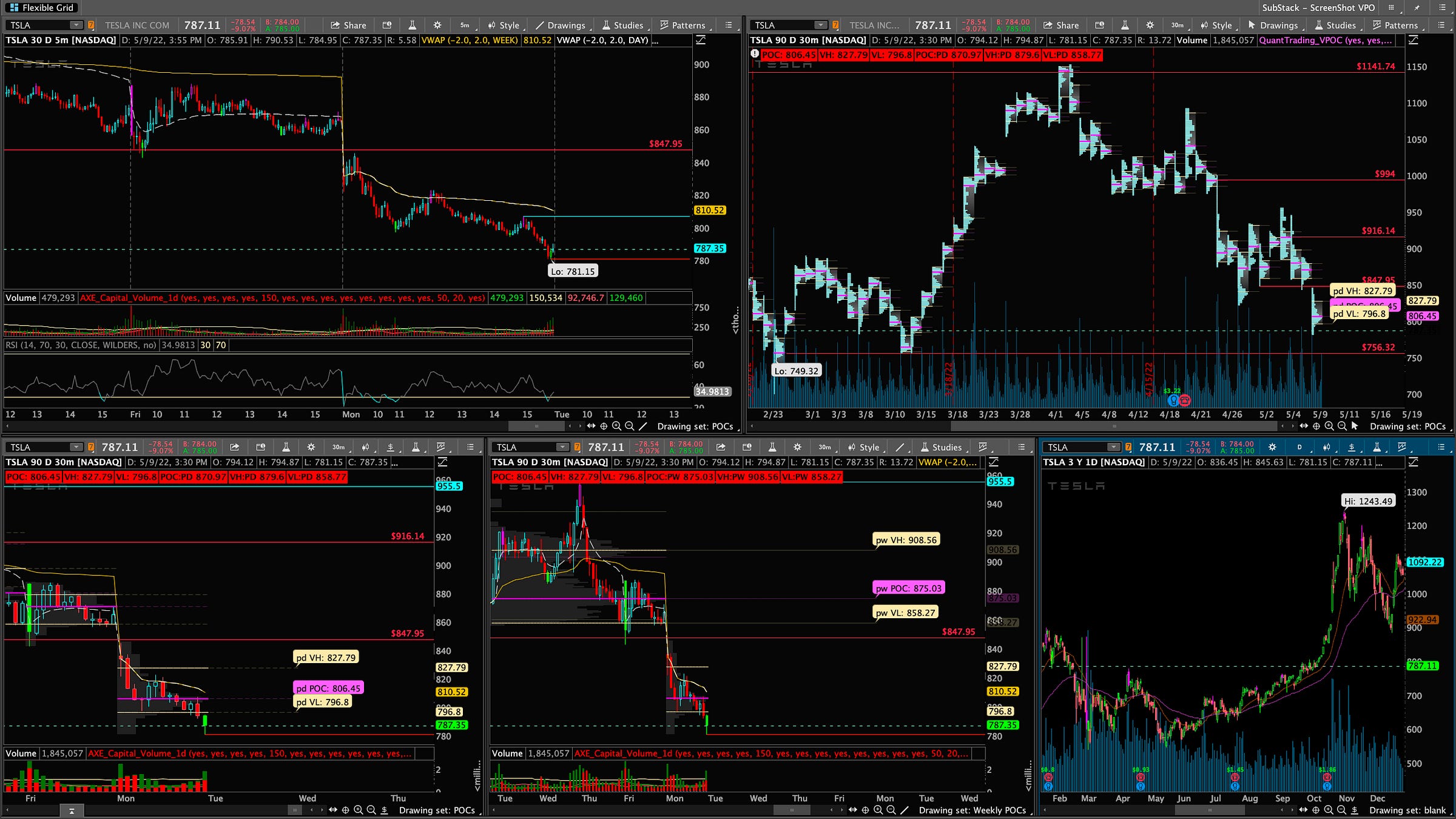 ---
If you enjoyed this sub stack please smash that Like Button ❤️ & Leave a Comment! 💬

I will be sure to post each daily a review of the market! Please share and subscribe!
Thanks for reading PHOENIX Capital Newsletter! Subscribe for free.
Click to Join Free Charts & Notifications about new posts and Intra Day Charts
→ Join AXELORD Telegram for notifications
Thank you for reading PHOENIX Capital Newsletter. Please share on Twitter!
---
Disclaimer: This newsletter is not trading or investment advice, but for general informational purposes only. This newsletter represents my personal opinions which I am sharing publicly as my personal blog. Futures, stocks, bonds trading of any kind involves a lot of risk. No guarantee of any profit whatsoever is made. In fact, you may lose everything you have. So be very careful. I guarantee no profit whatsoever, You assume the entire cost and risk of any trading or investing activities you choose to undertake. You are solely responsible for making your own investment decisions. Owners/authors of this newsletter, its representatives, its principals, its moderators and its members, are NOT registered as securities broker-dealers or investment advisors either with the U.S. Securities and Exchange Commission, CFTC or with any other securities/regulatory authority. Consult with a registered investment advisor, broker-dealer, and/or financial advisor. Reading and using this newsletter or any of my publications, you are agreeing to these terms. Any screenshots used here are the courtesy of Think or Swim. I am just an end user with no affiliations with them.