AMAZING Live Stream Friday! Thank you all who joined for the 2 hours!
TEXT ALERTS - Text me PC to +1 (609) 604-7619 (this number you can ask me anything and stay up to date about live streams and more!)
Live Stream Monday - 8pm EST FREE For Everyone!
Once in, you will be in the VERIFY Channel, to unlock and view everything.
Make sure you verify your email
Click the "GREEN CHECK MARK"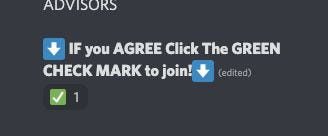 Thoughts on /ES /CL /BTC🤔
/ES
Ready to throw the towel in? The 20/50ema crossing on the daily… Isn't that a bullish sign? Well not so quick lets talk about a few things.
Last week game plan worked out beautiful as we are still at meaningful resistance for quite a handful of stocks. TRADE WHAT YOU SEE, which is why I post UPSIDE/DOWNSIDE levels. We are right at that 4180 zone before we shed off 500 points last dive in 10 days. So I'd be very nimble up here at the top!
Downside we are setting up for a beautiful few down days but when is the question. Let's go over some stocks on the daily and I HIGHLY SUGGEST you read the WEEKLY PLAN to see exactly where we are in the bigger picture!
"Remember, the market transfers money from the impatient to the patient!"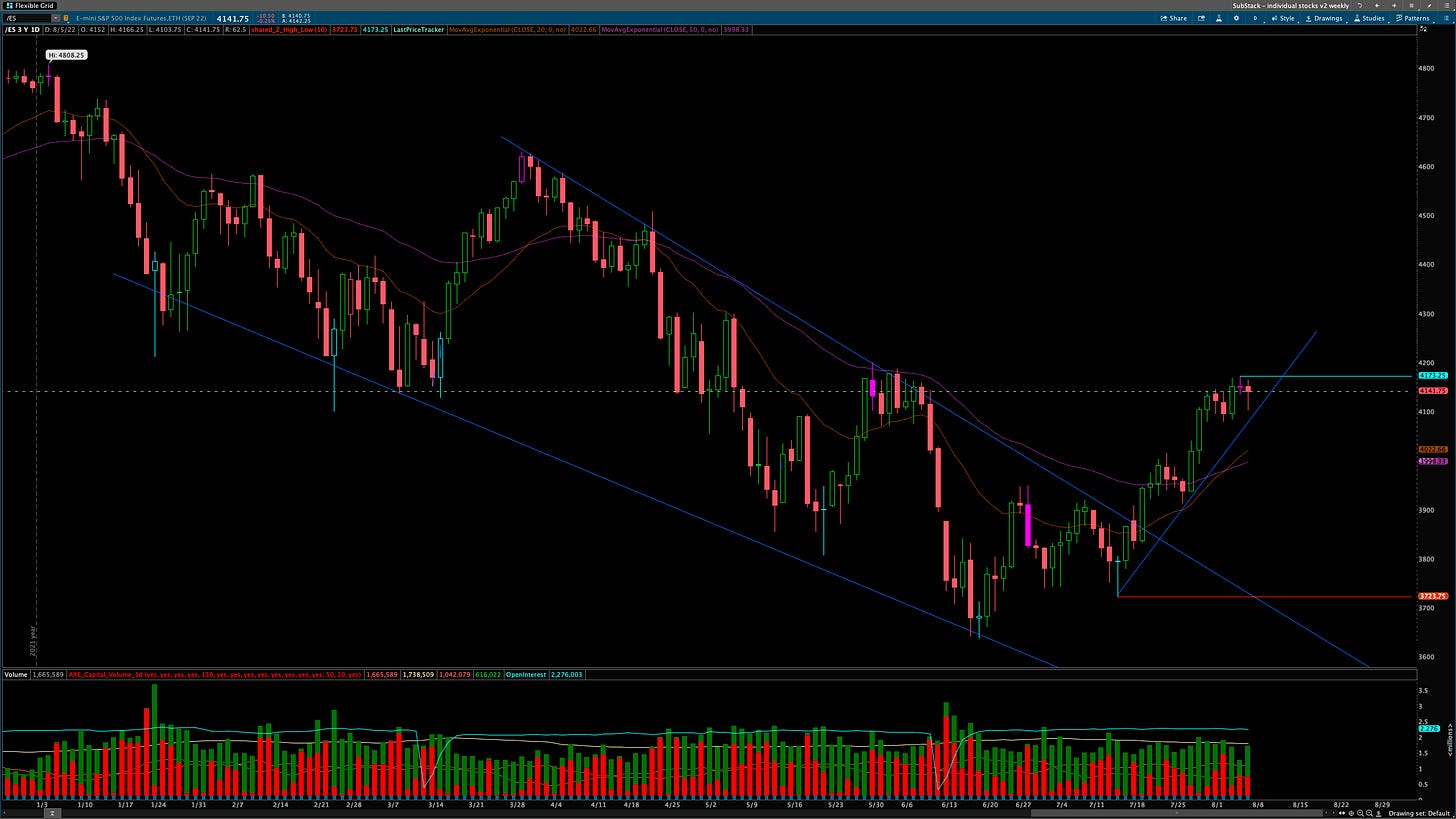 /CL
Oil came right down to our 86 level that we had. Falling wedge here. If we actually break over 94.78 we can see a rally start and back to 98.8 then 101.88. Over that 103 and 105.02 follows.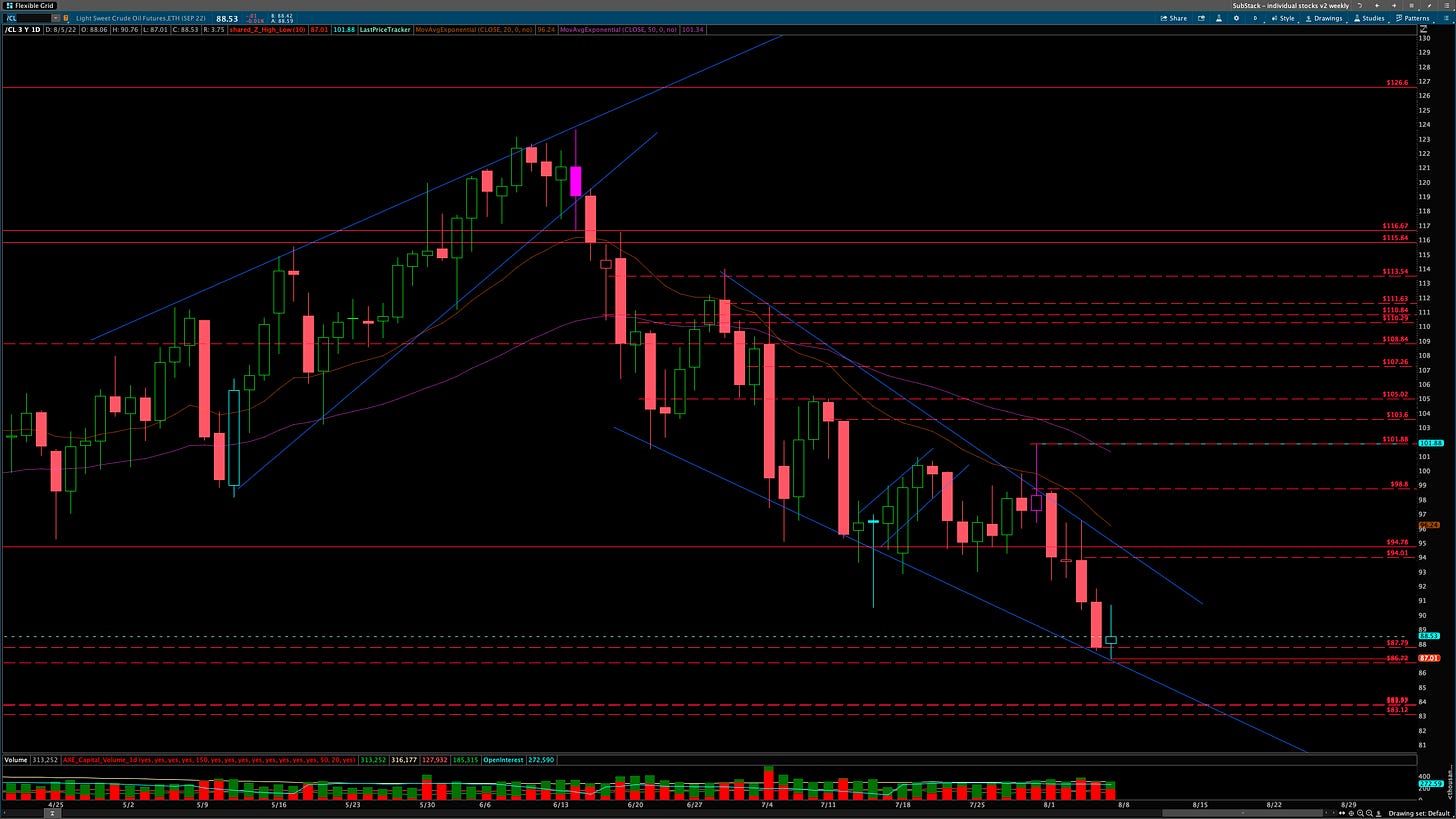 /BTC
Last week plan called for a soft week ahead because of the Purple Doji and that is exactly what happened. If we break 22421, we will head down to 21303/20723 zone. Below that 19795 and then 18525 are below.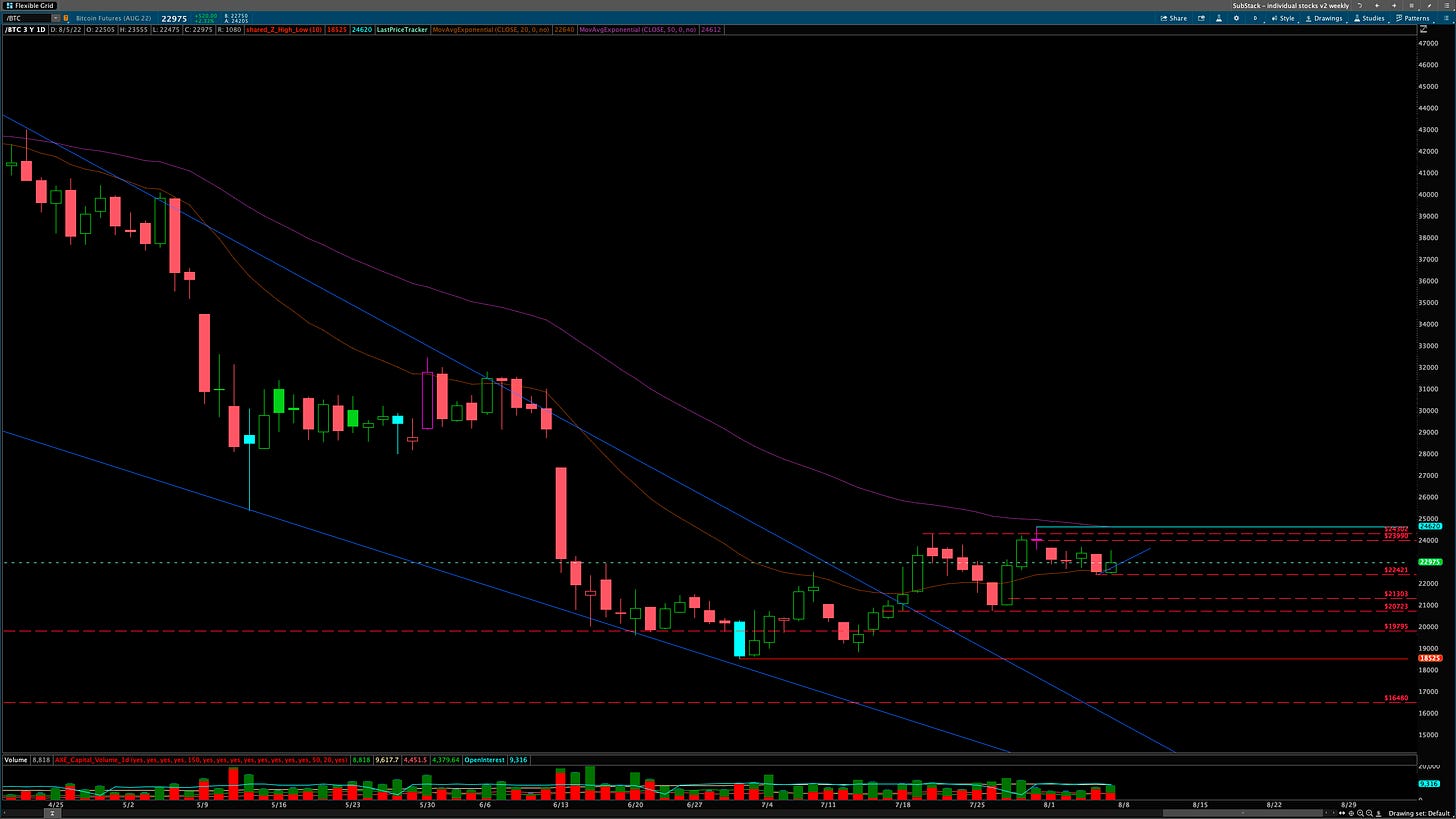 Want To Learn Volume Profile?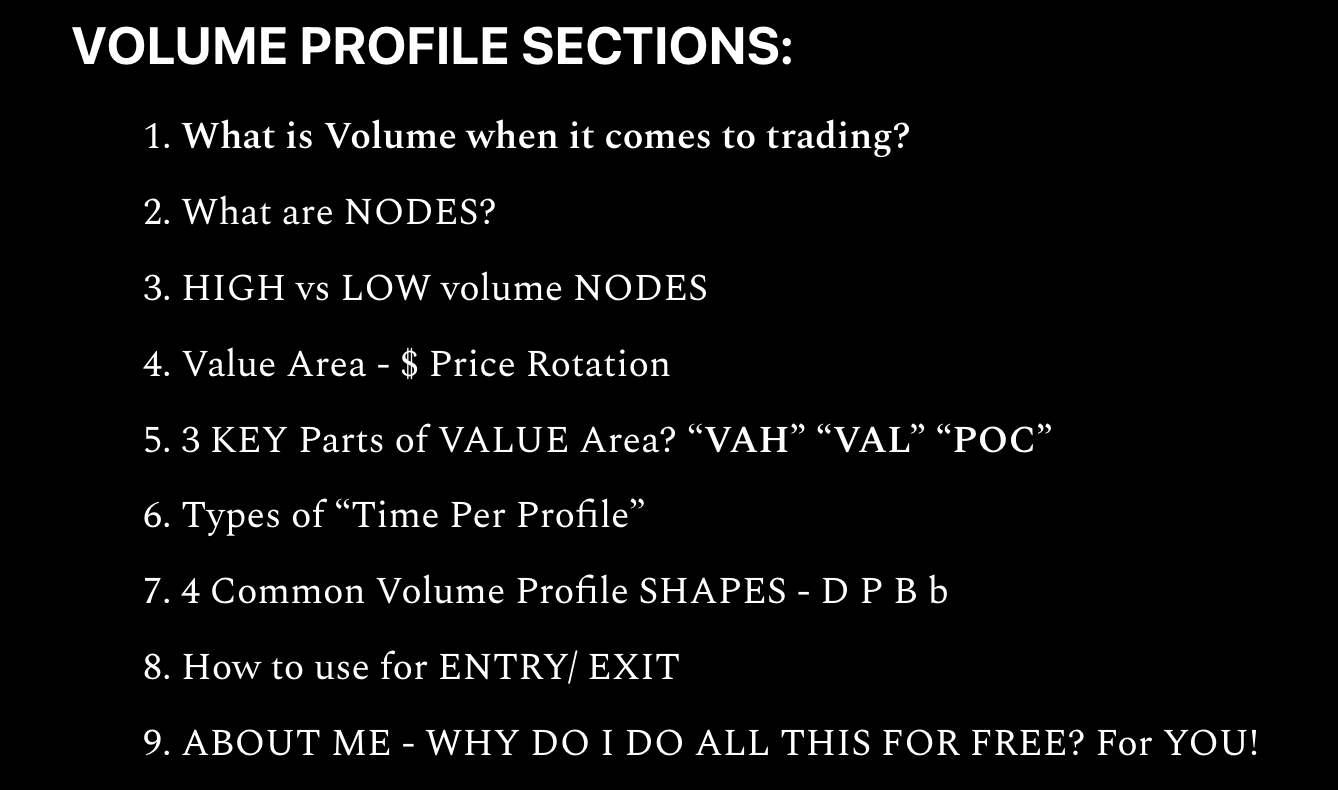 🐦 BIRD'S EYE VIEW
Stocks We Will Be Reviewing
FUTURES - /ES & /NQ
ETFs - QQQ (tech) & IWM (small caps)
VIX - Volatility Index
STOCKS - AAPL / MSFT / AMD / NVDA / AMZN / GOOGL / TSLA
/ES
Game Plan:
Above Weekly POC - 4120 - Need over 4116 to hold for us to push toward 4165 and 4179. If we manage to run really hard 4306 vPOC could get tested.
OPEN Below Weekly POC - 4120 - Below 4073 we can see 4030 then 4007. If we continue the dive down 3965 then 3910 could be exposed. Crater = 3834 zone and lower.
POC: 4120  / VH: 4152 / VL: 4105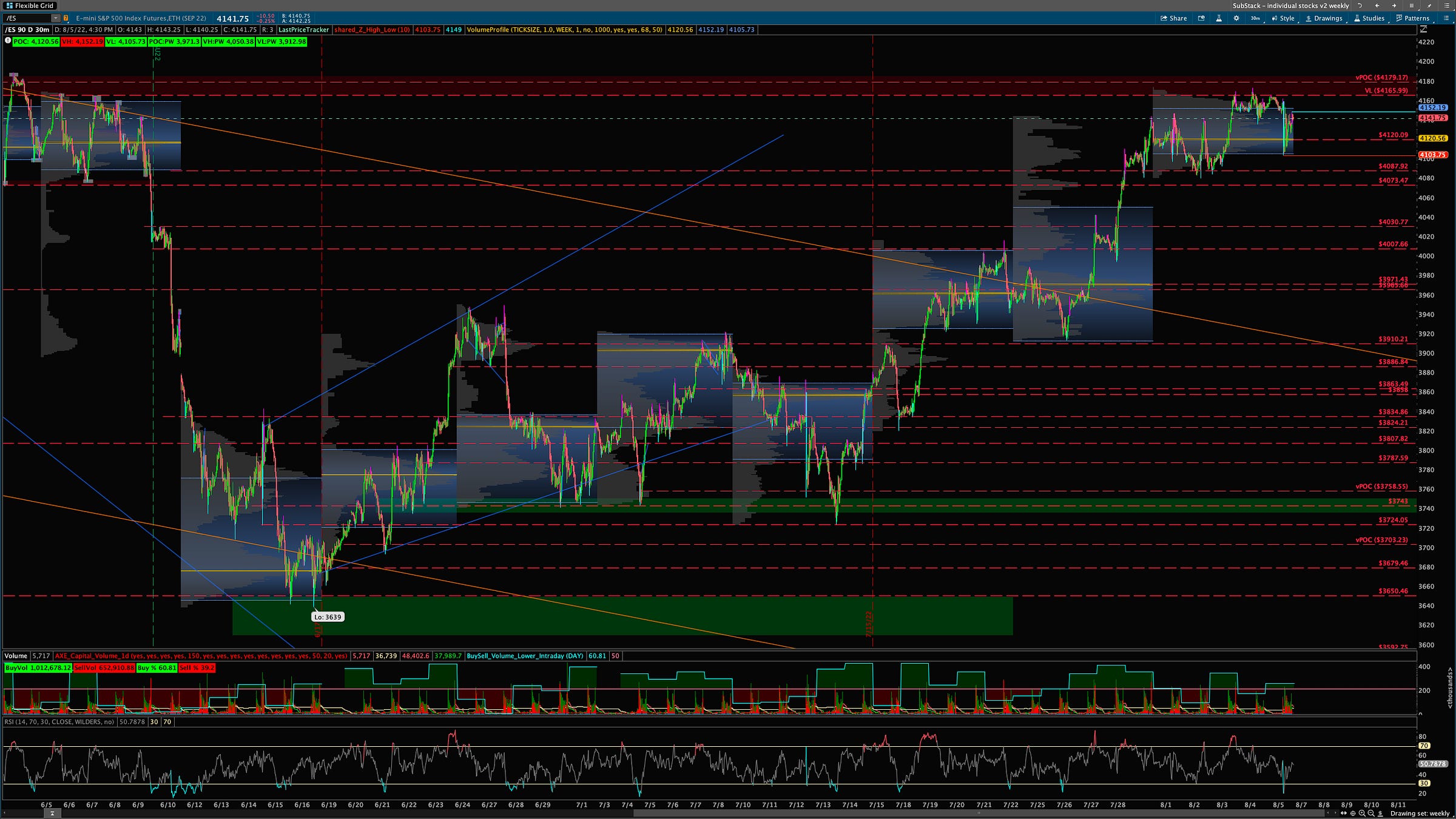 SPY
Game Plan:
Above Weekly POC - 410 - 410.71 we hold we can see 417.22 and possibly meet resistance. If we overshoot not much till 429.96 but that would be over extended by a long shot imo.
Below weekly POC - 410 - Below 406 we can head down to 395.6 vPOC then 389.31 .  Eventually, test 384.18 and 380.74. If all fails 378 and 372 are exposed.
POC: 410  / VH: 413 / VL: 409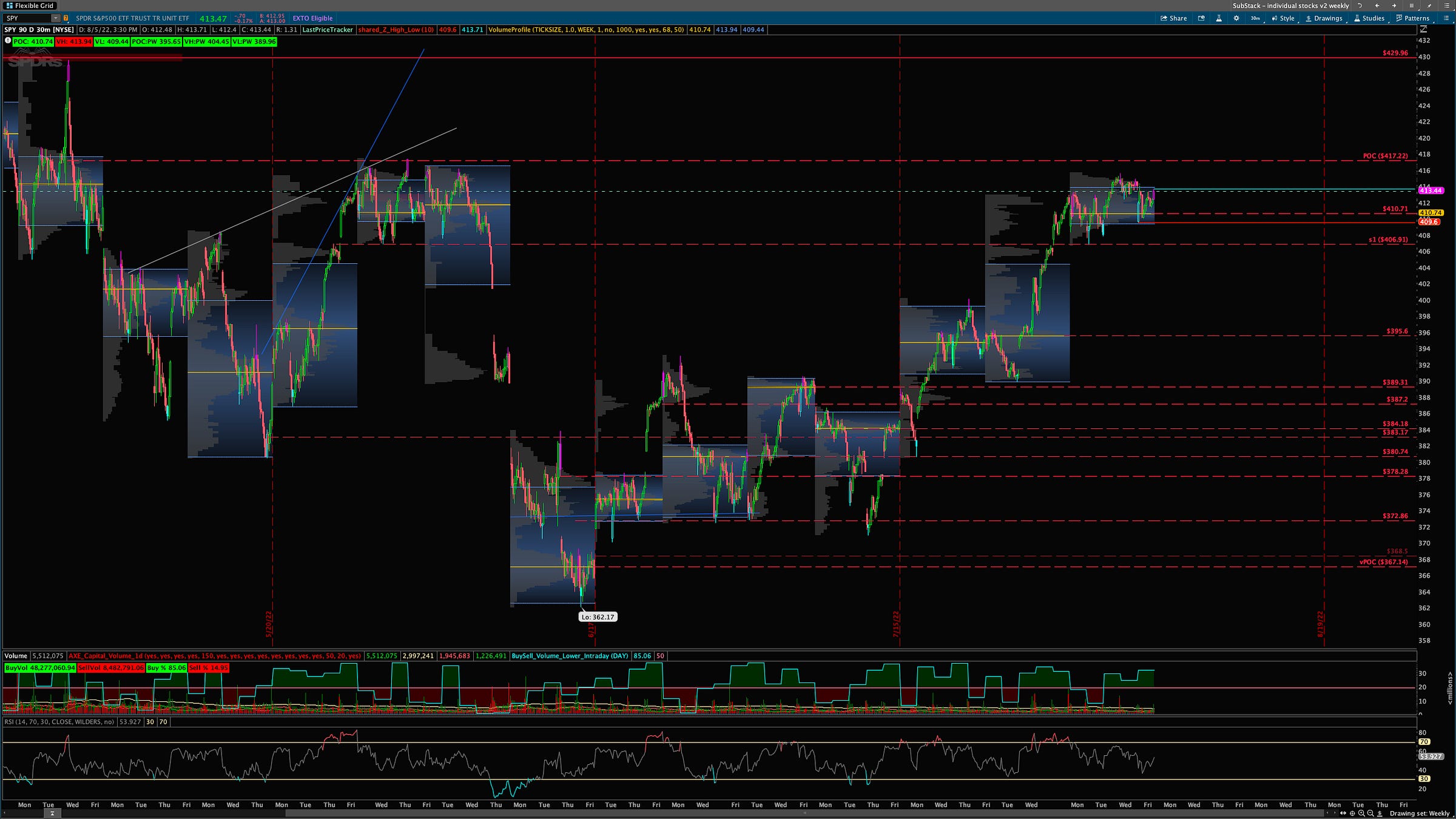 /NQ
Game Plan:
Above Weekly POC 13262 -  Need over 13265 to hold for us to retest 13384 then push to 13555.
Below Weekly POC - 13262 - Below 13906 we can see 12880. If that breaks we head down to last weeks weekly POC 12432. If that breaks we head down to 12295 zone then 12045 zone. If we collapse 11903 is exposed then 11742 and 11483 can follow.
POC: 13262 / VH: 13224 / VL: 12977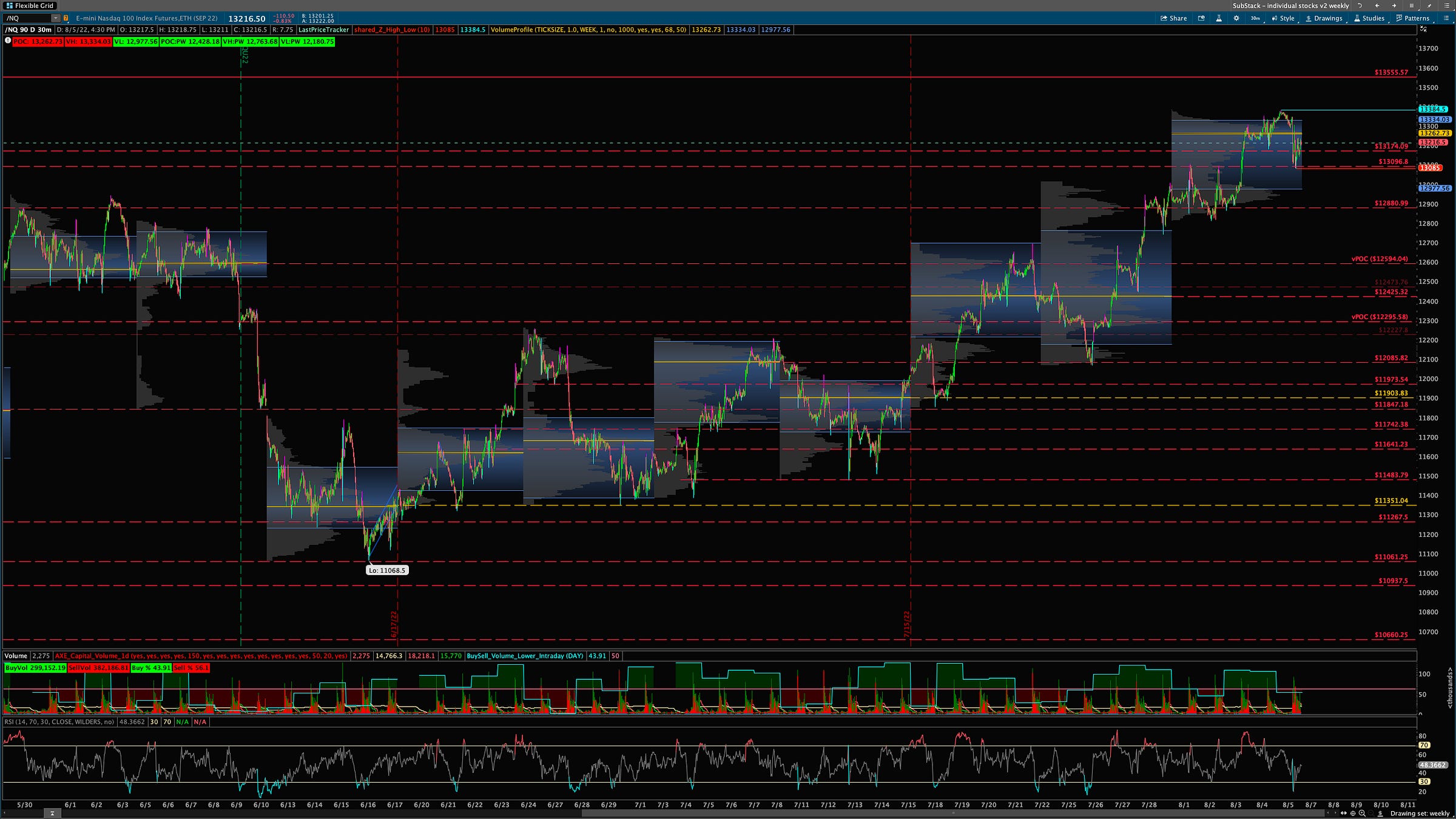 VIX
Game Plan: FALLING WEDGE
Back over 24.69 we will push higher and eventually see 28.42
21.07 needs to hold as it would be the 3rd bounce of the falling wedge down we have.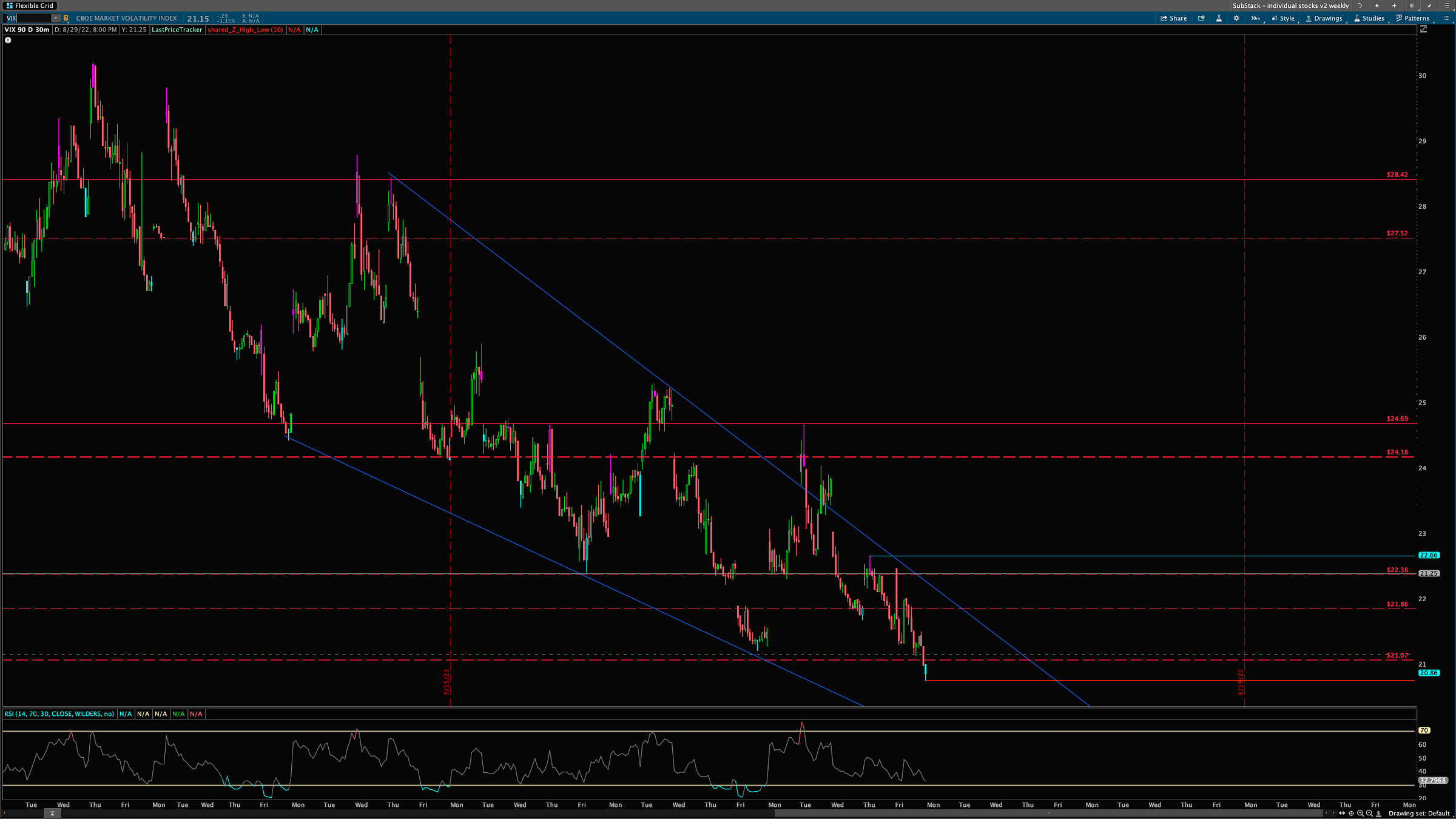 QQQ
Game Plan:
Above Weekly POC - 322 -  Need to hold above 319 zone for us to push higher. We could see 324 retest then 329.96 is next up possibly! That is where heavy resistance is.
Below Weekly POC - 322 - If we break below 318.81 we can test 312.7 zone. Below that 307 then 302.1 vPOC. If that fails we can head down to 293 zone then 289. If we dive 280 where support could be found if not 276.
POC: 322 / VH: 324 / VL: 316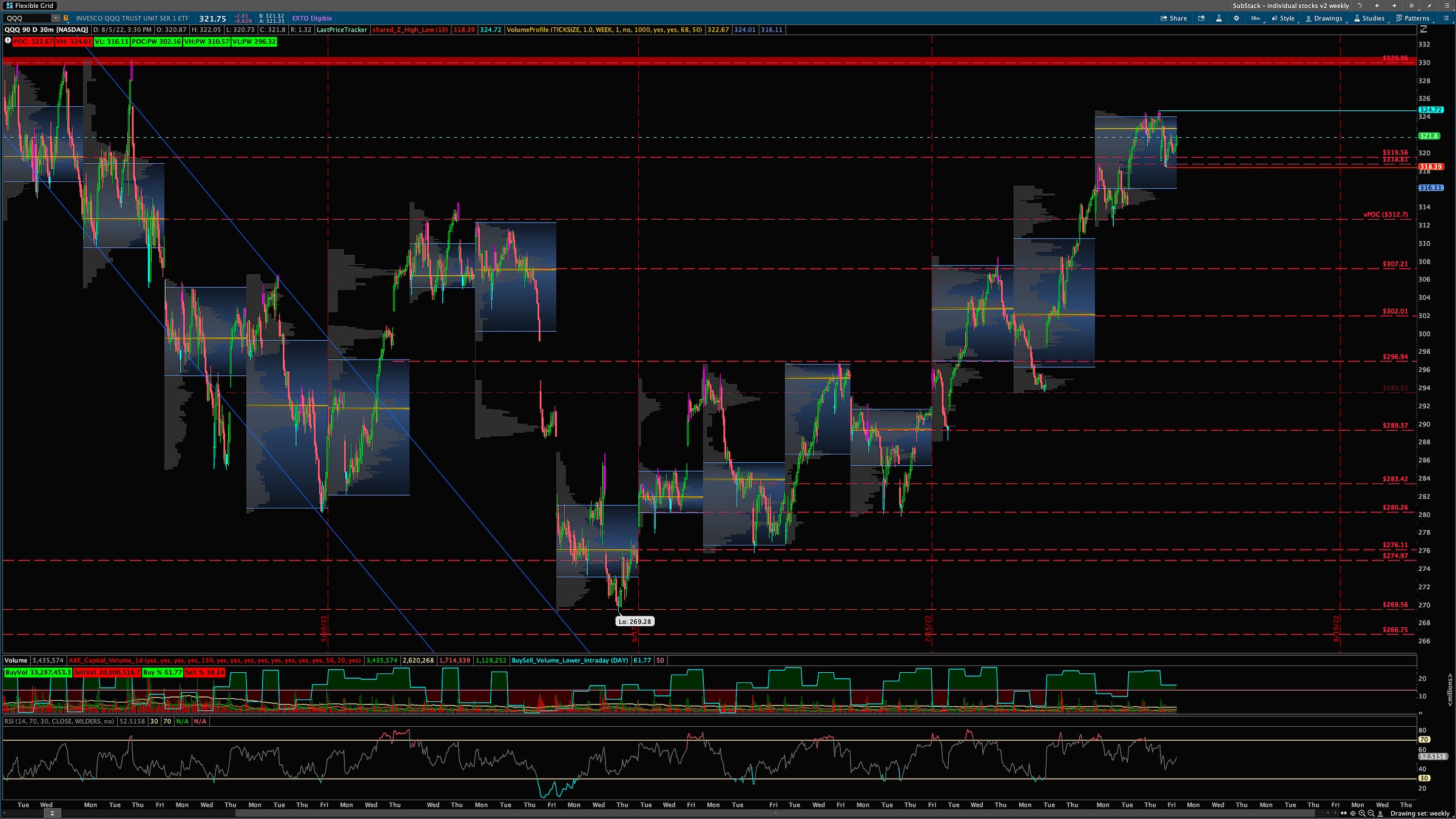 IWM
Game Plan:
OPEN Above POC - 189 - We need to get over 191.56 first. If we can we will likely test 193.97 on an overshoot where resistance is.
OPEN Below POC - 189 - If we break below187.89 and hold, we can make our way down to 183.51 then 182.11. If that fails we will see 179.46 vPOC test. Below that 178.13. Below 178.13  it gets choppy we can see 176.44 possibly but if that breaks not much support till 173.14. Could get choppy around 171 again but support seems to be around 168.6 and 166 zone so just note that zone.
GAPS: 175.01 > 174.34 / 168.34 > 165.71 / 157.71 > 155.89
POC: 189 / VH: 190 / VL: 187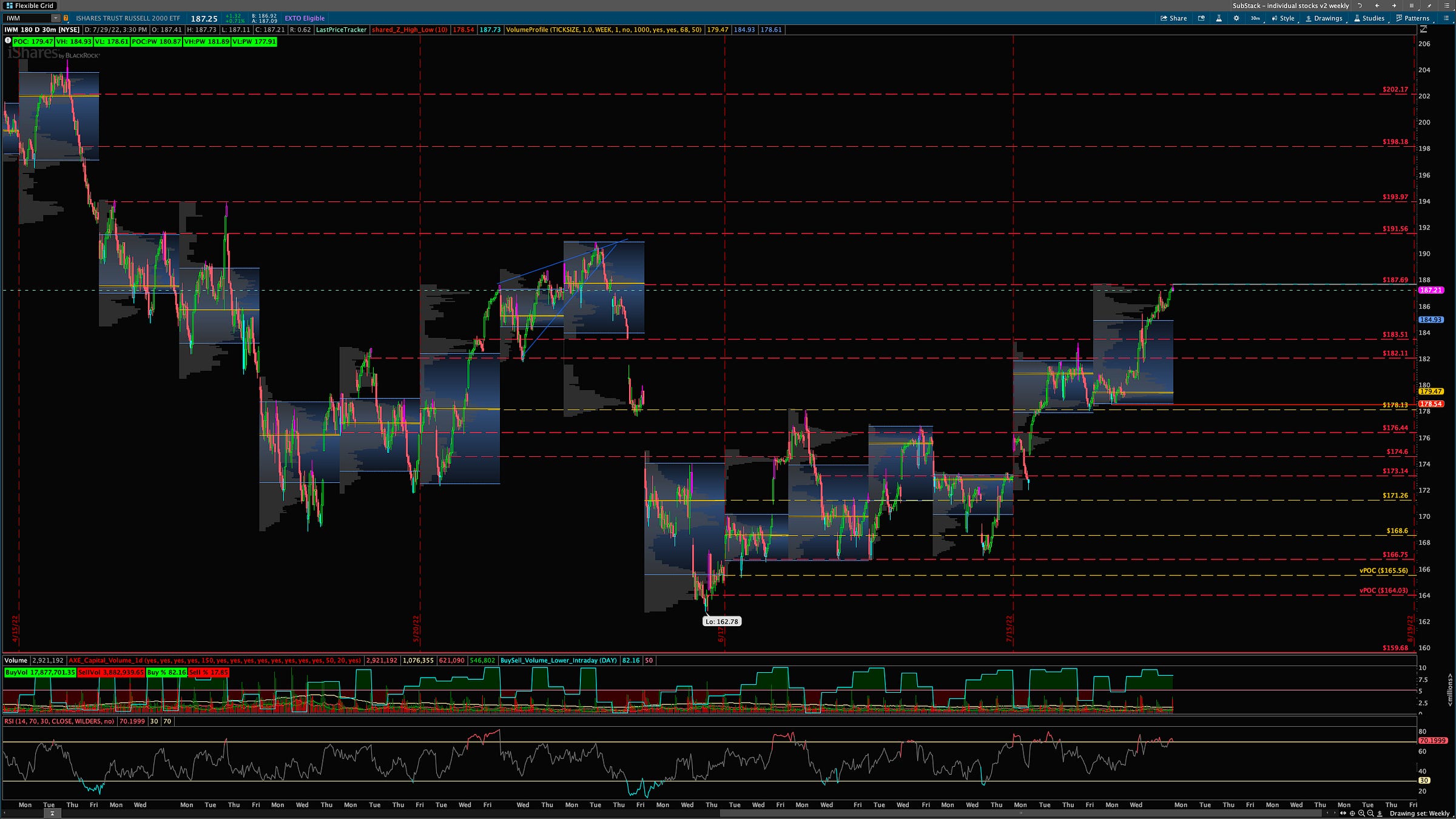 AAPL
Game Plan:
Above Weekly POC - 164 - Over 163 zone we can try to retest 166.49 possibly. If we break that 171.29 zone is next up for testing then 173.58 if we manage to really run.
Below Weekly POC - 164 -  I'd like to see below 163 break and hold and then below 160.21 for us to really start the drop. Below 160.21 we close the gap and head down to 156/7 zone and then 154.19 if we continue to pull back. If we loose that we see 151.42 zone then 148.07. If all fails 145.09 vPOC could get tested then 143.59.
POC: 164 / VH: 166 / VL: 162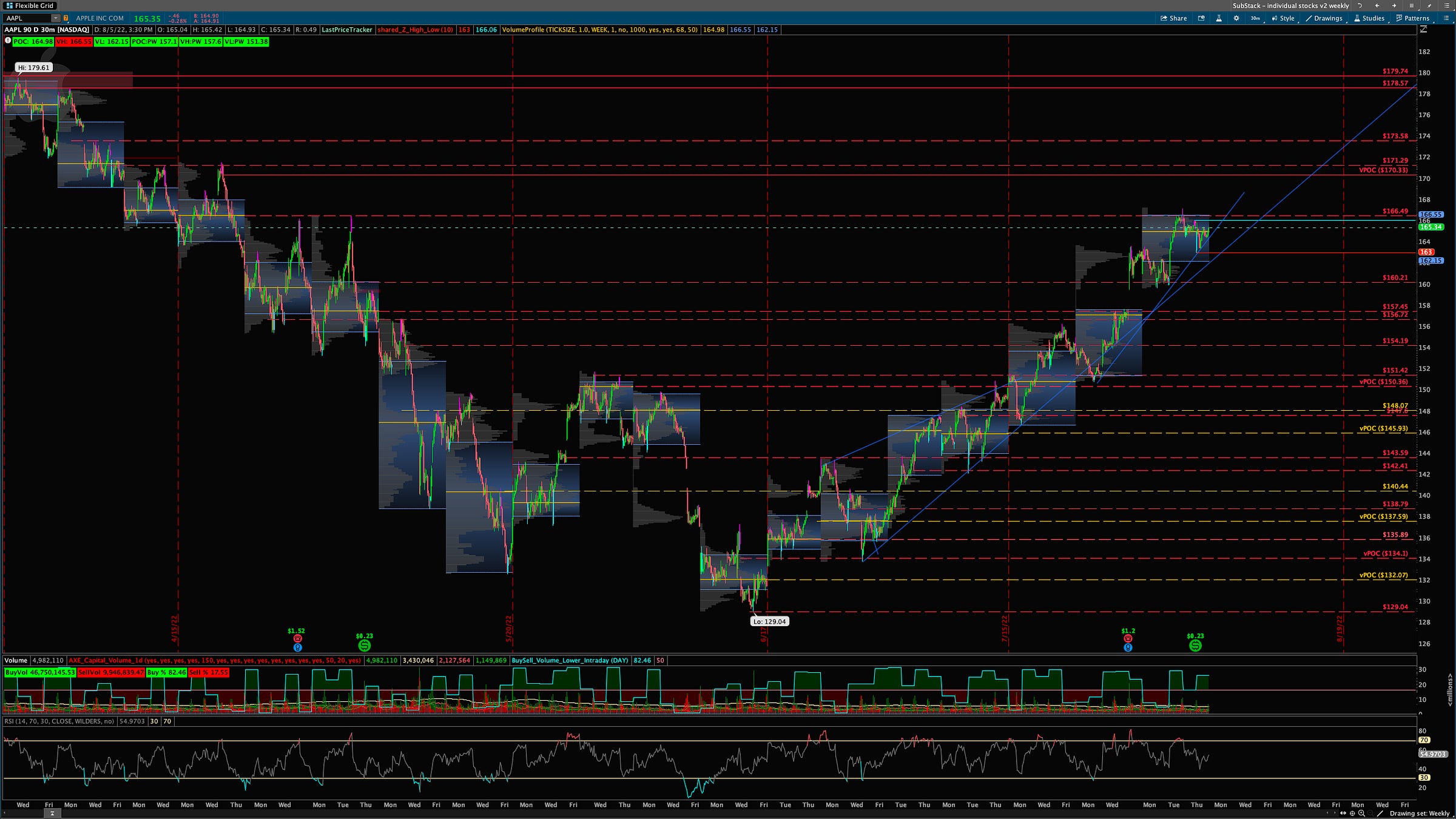 MSFT
Game Plan:
Above Weekly POC - 282 - We need to break and hold and remain above 283.9. If so it can get a little choppy as you can see previously every time we ran over that level we had an over shoot to 290. If we continue to run we can see gap closed and a run to 296.17
Below Weekly POC - 282 - Currently at 282.18 POC resistance. Below that we can head to 273 previous week VH. If that fails 267.97 is next and below that 263. If we continue to pull back below 258.99 we close the gap and head down to 250 and then 245.
POC: 282 / VH: 283 / VL: 277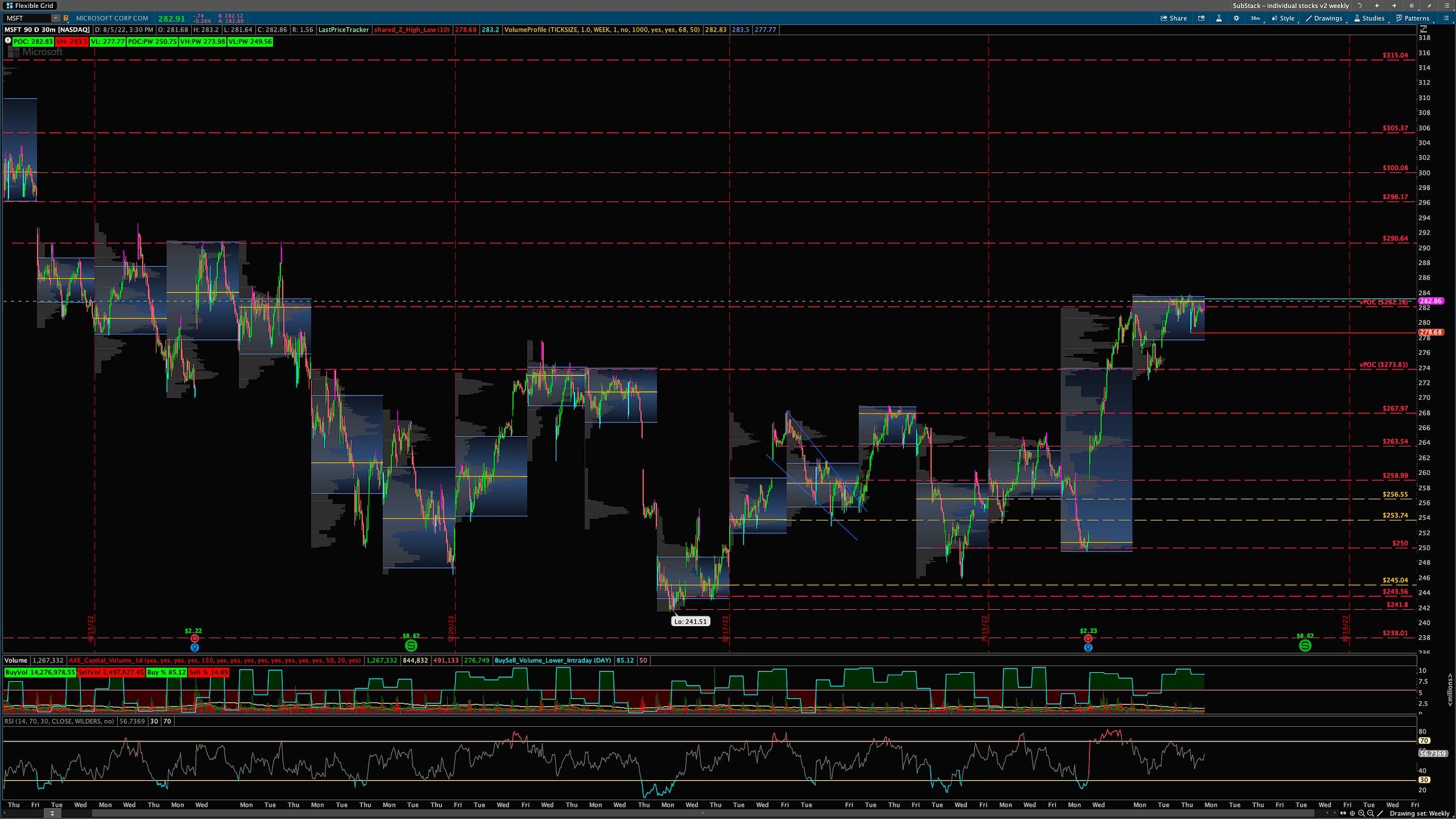 AMD
Game Plan:
Above Weekly POC - 97 - Looking for that break over 104 we have a few level up here that we could run into. 105.26 then 107.31. Over that 110.87 is next.
Below Weekly POC - 97 -  Below 100.98 we can possibly start the decent to 97.54 vPOC. Below that 95.62 and 94.21 are light levels of support. Below that we see 91.37  then 87.73
POC: 97 / VH: 101 / VL: 95
NVDA Game Plan:
Above Weekly POC - 185 - Need over 186.84 POC to hold. If so we can retest 192.  Through that 192.07 then 195.1 is next and resistance at 199.29 again.
Below Weekly POC - 185 - If we do reject here at 181.97 zone we will had back down to 176.75 then 172.04 then test 166.54. If we fall 160.69 then 158.09 zone could get tested to close the other gap.
POC: 185 / VH: 189 / VL: 183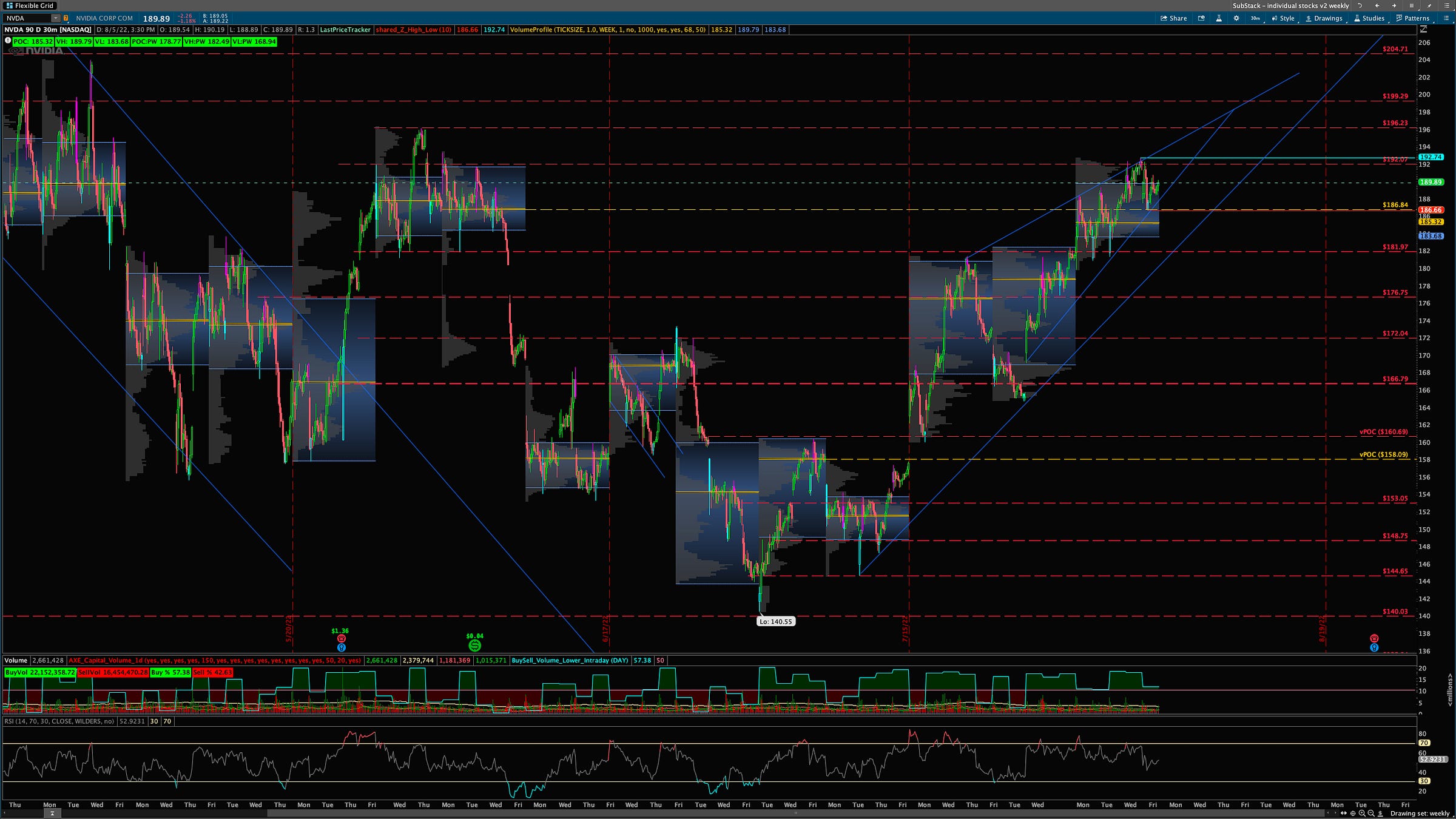 AMZN
Game Plan:
Above Weekly POC - 140 - Need to hold over 139.59. If so we can retest 142.84 and then push to146.25 could get tested where resistance is at.
Below Weekly POC - 140 - If break 139 we can see 136.37 and 134.24 tested as light levels. Below 134 we will like for the gap fill  but it may not be a straight line. 129.58 is first up then 126.51 . Below that 122.42 to close the gap. If we continue the decent 113.81 zone could get tested.
POC: 140 / VH: 143 / VL: 136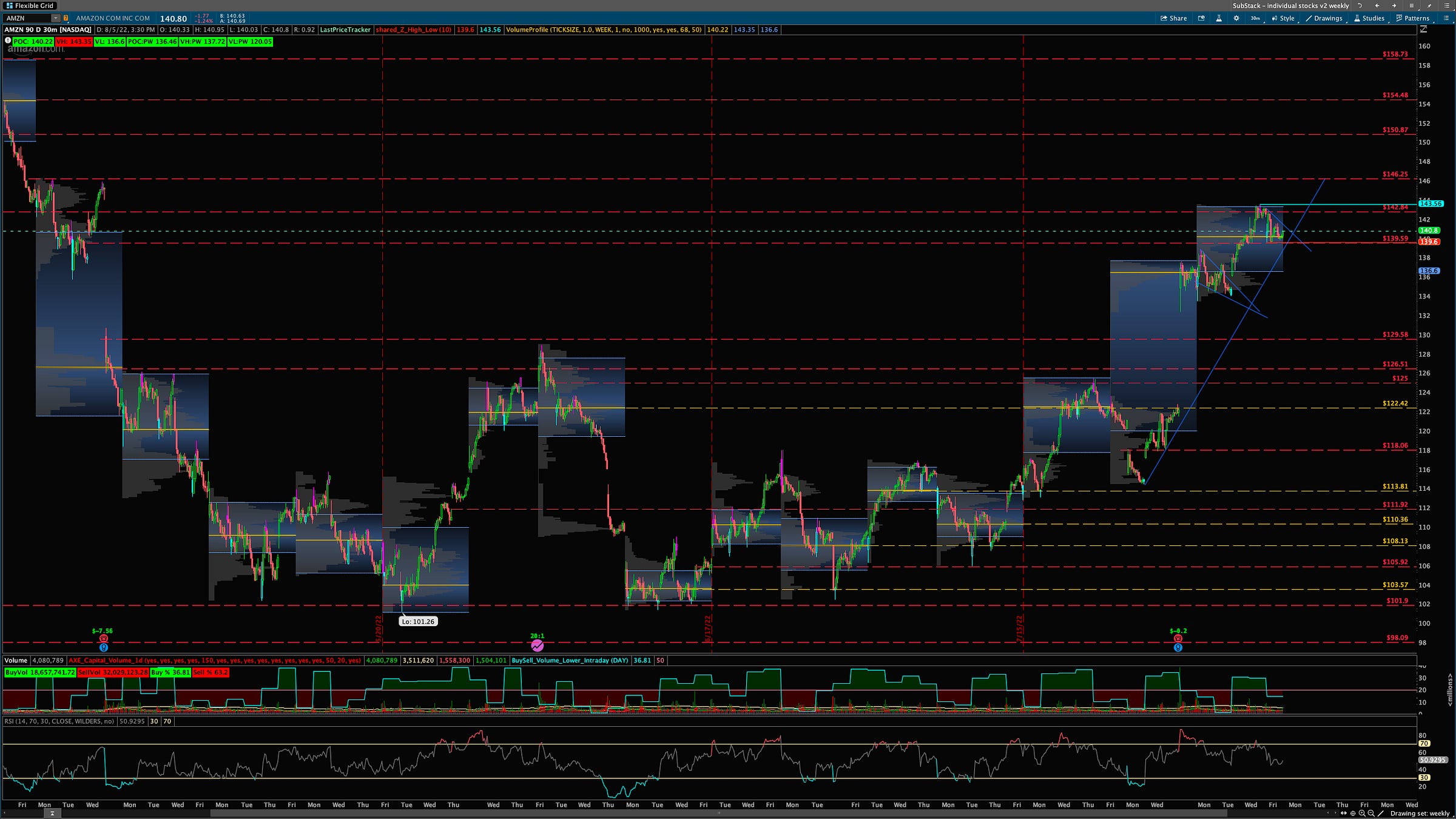 GOOGL
Game Plan:
Above Weekly POC - 112 - Need to stay over 116.06 if we are going to push 118.97 where meaningful resistance is at right now. If we break that we can possibly run to 123.23.
Below Weekly POC - 112 -   Below 116.06 We can see 113.16 then 111.23. If that fails we make our way to 108.68 then possibly head to 105 zone.
POC: 112 / VH: 118  / VL: 115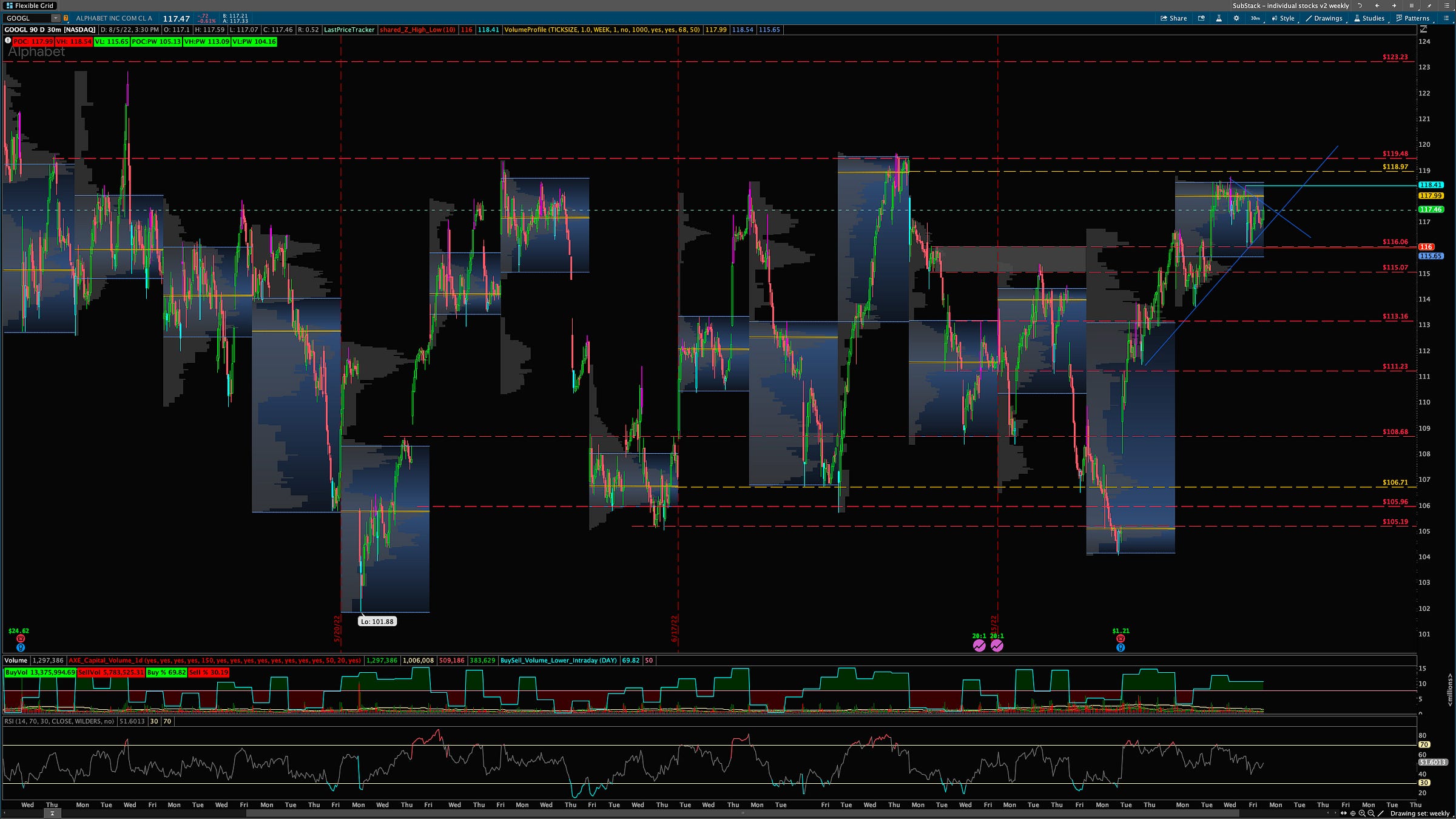 TSLA
Game Plan:
Above Weekly POC - 909 - Need over to get back over 875.7 POC. If so we can head back to 909 POC then try to take out 940. If we are able to 956 then 994 is overhead.
Below Weekly POC - 909 - Below 847 we will likely head down to 816/809 POC. Below that 763 awaits. If that break 747 follows then 715.
POC: 909 / VH: 926 / VL: 897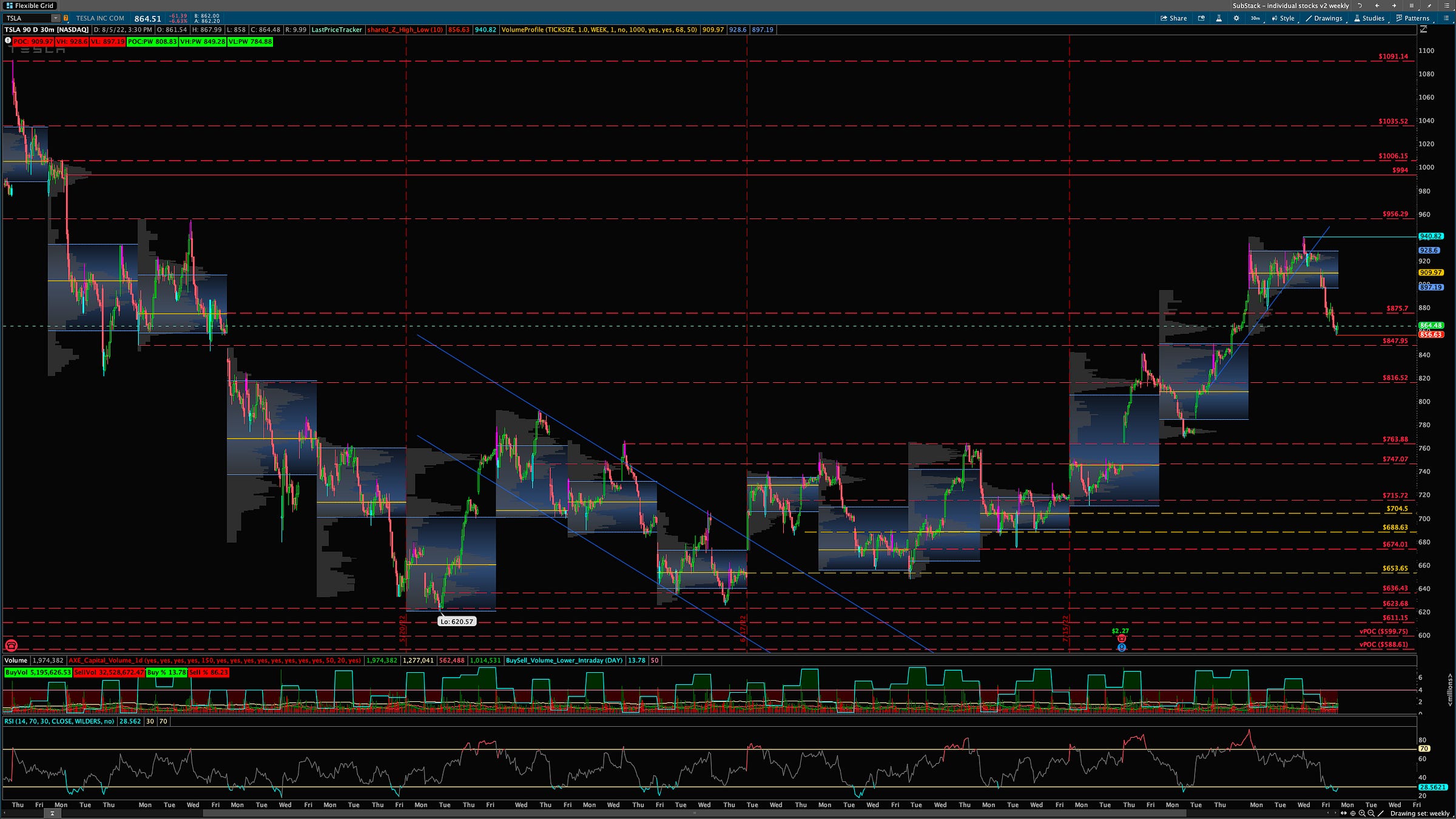 Did you enjoy this post?
If you want more detailed levels and game plan check out the Daily SubStack:
Daily Levels for all 12 stocks
User stock posts if  you want a stock charted with levels, let's talk about it and create a game plan
Live Streams with Q&A
To continue supporting my work I put into these blog posts you can subscribe to the monthly or annual plan!
Thank you for reading PHOENIX Capital Newsletter. Please share on Twitter!
Disclaimer: This newsletter is not trading or investment advice, but for general informational purposes only. This newsletter represents my personal opinions which I am sharing publicly as my personal blog. Futures, stocks, bonds trading of any kind involves a lot of risk. No guarantee of any profit whatsoever is made. In fact, you may lose everything you have. So be very careful. I guarantee no profit whatsoever, You assume the entire cost and risk of any trading or investing activities you choose to undertake. You are solely responsible for making your own investment decisions. Owners/authors of this newsletter, its representatives, its principals, its moderators and its members, are NOT registered as securities broker-dealers or investment advisors either with the U.S. Securities and Exchange Commission, CFTC or with any other securities/regulatory authority. Consult with a registered investment advisor, broker-dealer, and/or financial advisor. Reading and using this newsletter or any of my publications, you are agreeing to these terms. Any screenshots used here are the courtesy of Think or Swim. I am just an end user with no affiliations with them.
Thanks for reading PHOENIX Capital Newsletter! Subscribe for free to receive new posts and support my work.