Thank you for clicking the link, this is my first sub stack with more to come! This is completely free just sharing my trade levels and ideas with the public and hope you enjoy. No political views will be shared strictly trade levels and ideas! If you have any charts you will like charted please comment below or on my twitter  @RealLifeAxelrod (click to follow)
So the last 2 days have been absolutely insane and a ton of volatility. Almost a 400pt round trip after hitting 4300 yesterday and now only 100 points away from 4050 low from 2 sessions ago.
THIS MAY BE TOO BIG FOR EMAIL SO OPEN IN INTERNET BROWSER


Quickly just want to share some terms used in this article:
POC - Point of Control
PD - Previous Day
VH - Value High
VL - Value Low
LIS - Line In The Sand
So first is a birds eye view of the market and then we will get into some levels of support and resistance of what to look at.

The following stocks that I will cover are: ES same as (SPY) /VIX / QQQ / NQ / AAPL / MSFT / AMD / NVDA / TSLA / AMZN  (these are the main stocks I will post levels for in every sub stack!)

****YOU CAN SCROLL THROUGH TO A SPECIFIC STOCK TO READ THOSE LEVELS.****
Top: SPY / ES / VIX - Bottom: QQQ / NQ / UVXY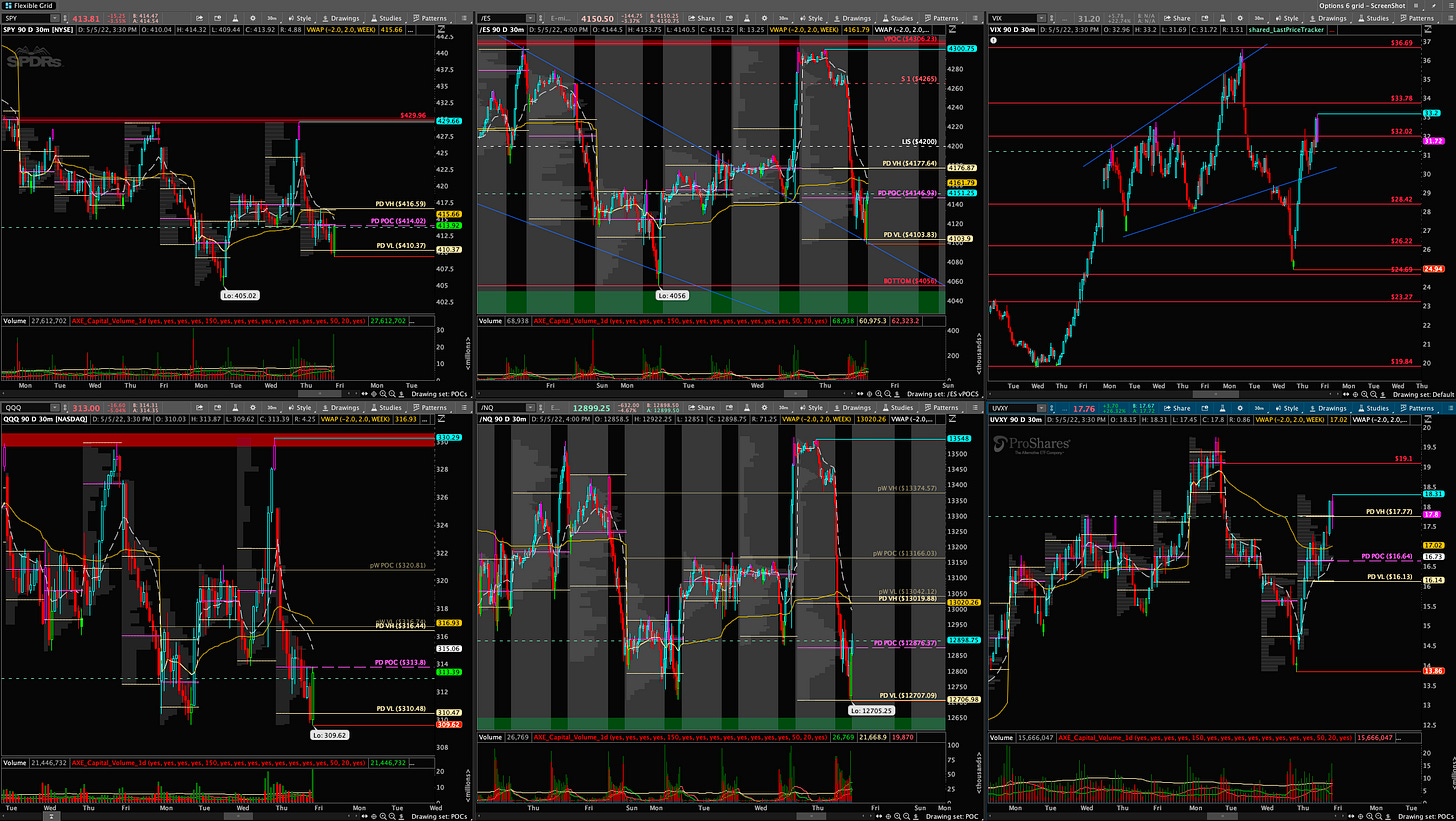 Top: AAPL / MSFT / TSLA - Bottom: AMD / NVDA / AMZN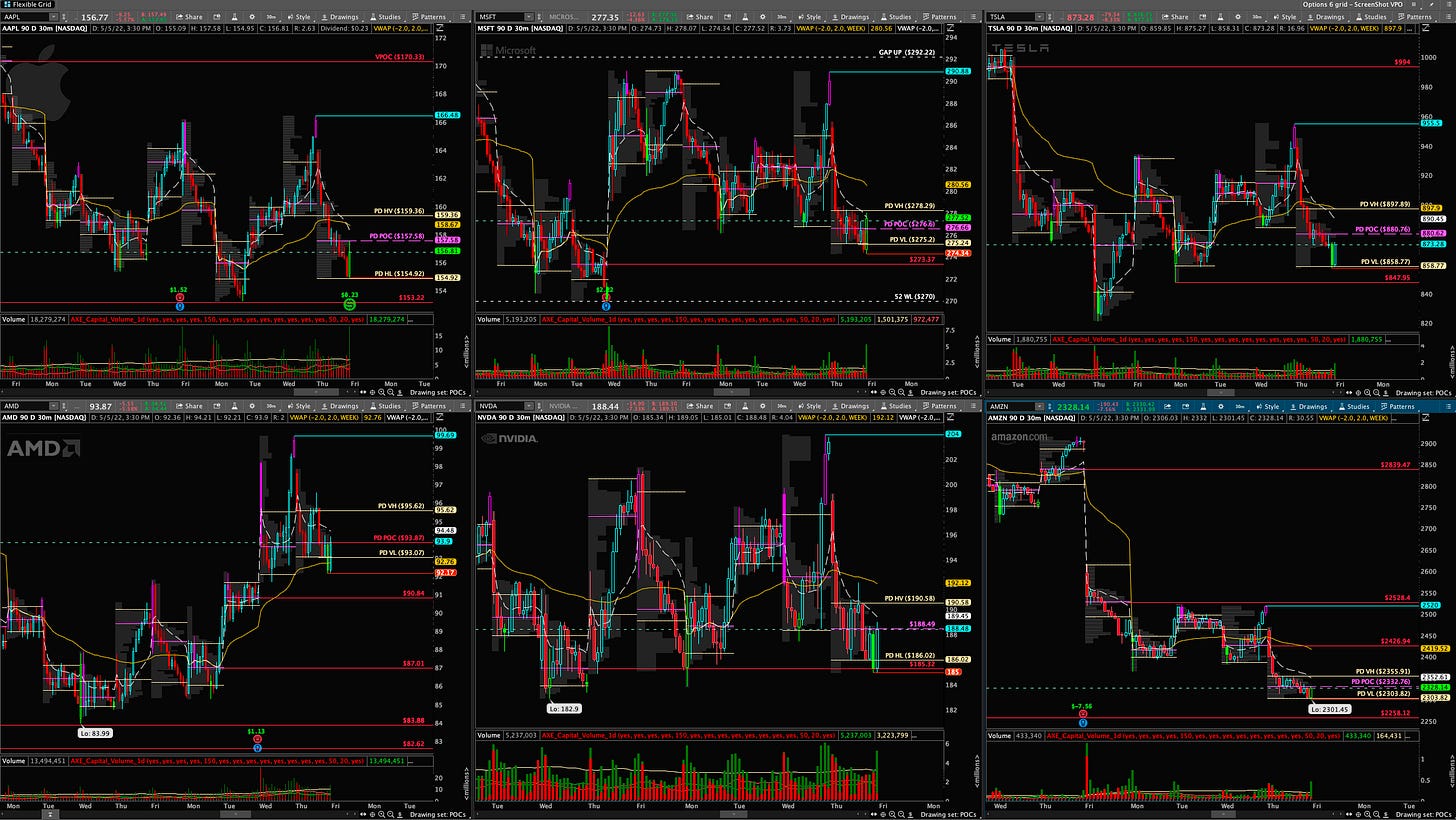 The Breakdown
---
/ES (same as SPY)
Hard rejection off 4300 led us all the way down to WEEKLY VL of 4115 range. Right into close pulled back up to the weekly POC 4153.87 and daily POC 4146.93 closing slightly higher at 4151.

Tomorrow game plan:
OPEN Above POC - 4146.93 could see a retest of VH 4177.64 > then test this week POC 4188.15 > then that 4200 LIS. It may be very hard for bulls to really move this up through 4200 and back to 4250 range since we are going into the weekend and many will be afraid to hold things into next week after seeing such a sharp selloff.
OPEN Below POC - 4146.93 > leads us down to VL 4103.83 > next 4050 range and below that flush to 4000 - big level to be held and if not could see another drop to 3950-3900 range.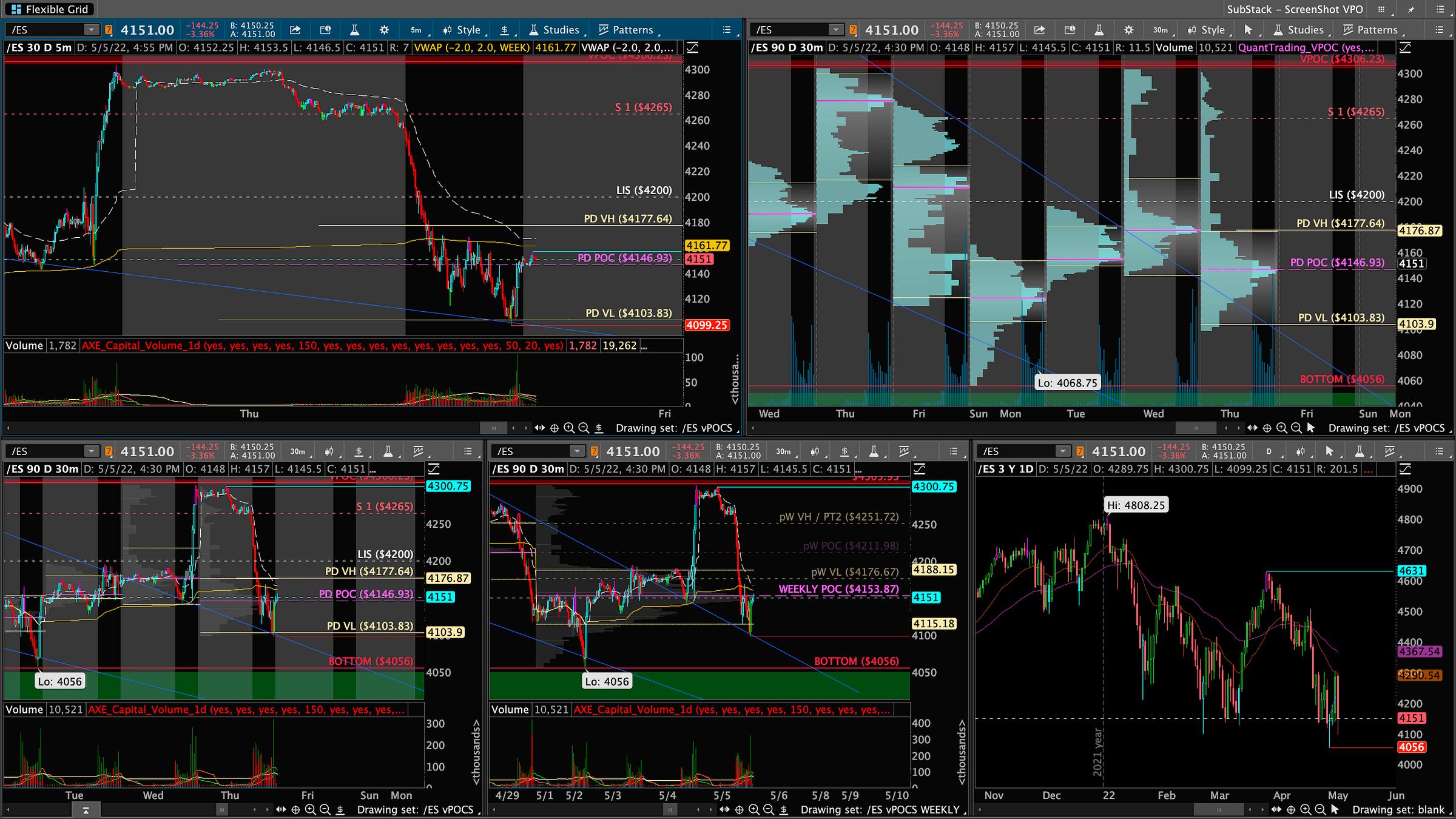 ---
VIX
Massive 10pt ripper up. Do we retest 36 again and then to 40?

Tomorrow game plan:
33 Level - 33.20 was HOD today and will be the first level to break through and go for the 33.78  after that not much stopping till 36.69
If it decides to pull back first level will be 29.98 level and then 28.42 > 26.22

---
QQQ
Triple top at 330 range common pattern (google it for more image examples) and closed at 313.00 right below daily POC 313.80.

Tomorrow game plan:
OPEN Above POC - 313.80 we go up to VH 316.44 and then break and run to this week VH 319.90 range +. However, sellers may be found around the 316 level first.
OPEN Below POC - 313.80 we retest that level for a rejection for more downside to VL 310.48 and see if LOD (low of day) 309.62 hold.

If you notice on the Bottom right of the picture we have the daily chart and looks to double bottom wicked off 309 level as it was 309.65 the previous low 3 sessions ago.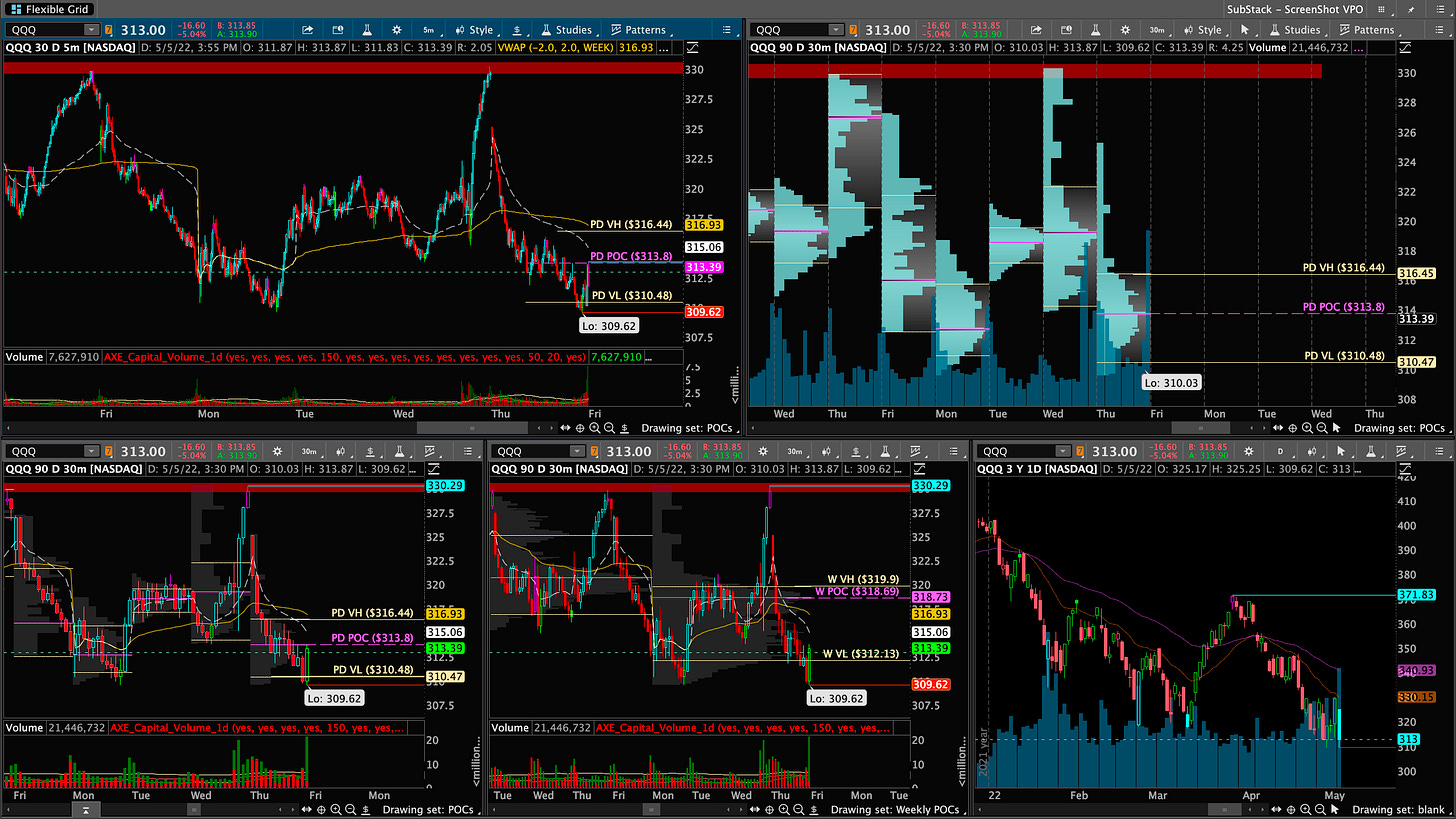 ---
/NQ
Nasty 850 point sell off… but managed to pull up 100+ points into close and close above the daily POC 12,876.37

Tomorrow game plan:
OPEN Above POC - 12,876.37 > we head to 13,019.88 area right where weekly VWAP is close to. If we break and run could see a test of weekly VH 13,145.04 area
OPEN Below POC - 12,876.37 > leads us down to VL 12,847.82 for a final retest of the LOD 12,705
NOTE: Same as QQQ we have double bottom of the session low from a few days ago if you look at the daily chart (bottom right)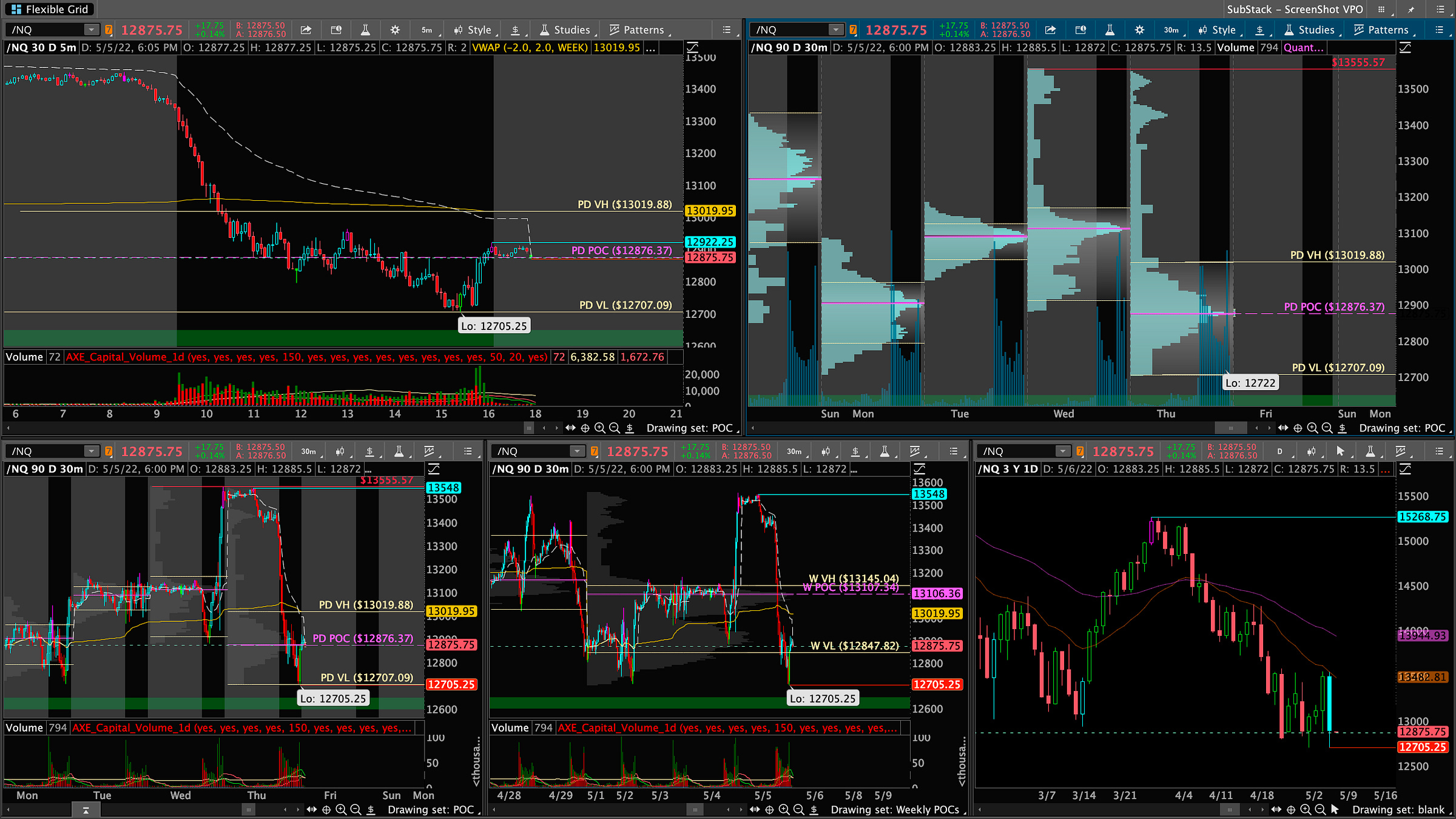 ---
AAPL
From a few days ago 166/167 looked to be the key area AAPL currently struggles to get over. pretty much a double top so clear downside was expected. However, it struggled in the last hour to close above POC. Closed a $1 and some change below it. AAPL usually moves in a $3 to $4 range sometimes more or less by $1 but today it moved $14 almost which is absolutely massive for AAPL.
Tomorrow game plan:
OPEN Above POC - 157.58 > we could revisit VH 159.36 which would bring us back over the weekly POC which would be nice to hold into close on Friday as AAPL and MSFT seem to be tech leaders in the market.
OPEN Below POC - 157.58 we retest POC and try to break it for a shot for upside continuation. If we reject it we will retest the VL 154.92 then revisit 153.22

KEY LEVEL TO WATCH - 153: If you look at the top right chart - this is the volume profile as you will see a straight red line across the bottom. That was a major POC from weeks ago that we bounced off of a few days ago and may bounce off it again. So very key 153.22 level.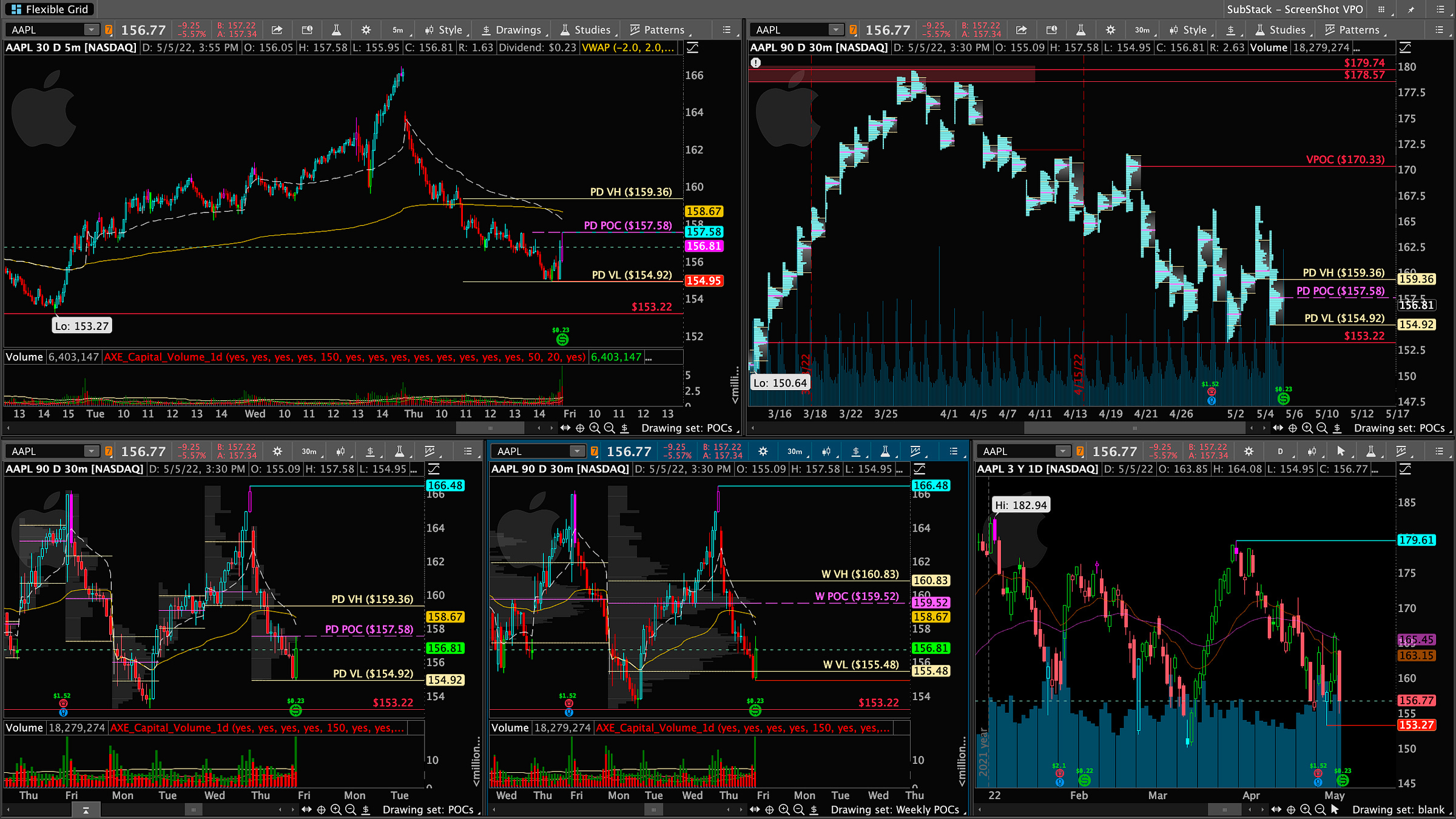 ---
MSFT
291 is the magic number we must break to get higher after several failed attempts this week, 3 to be exact = triple top. Had a strong close though right above POC but will it fade…?

Tomorrow game plan:
OPEN Above POC - 276.60 > we take a trip back to VH 278.29 and from there could attempt to regain 282.20 which is the weekly POC which would be a nice bullish close.
OPEN Below POC - 276.60 > If we happen to gap down hard overnight the first thing would be to retest POC to see if we can break and hold or reject. If we reject we will be revisiting the LOD of 275.37 and then a key level of 273.37 Below that it opens the doors to 270.
KEY LEVEL TO WATCH - 270: If you look at the Daily Chart we hit 270 two times so far if we tap it a third it could hold if not it will be fatal and we open up the doors for much more downside.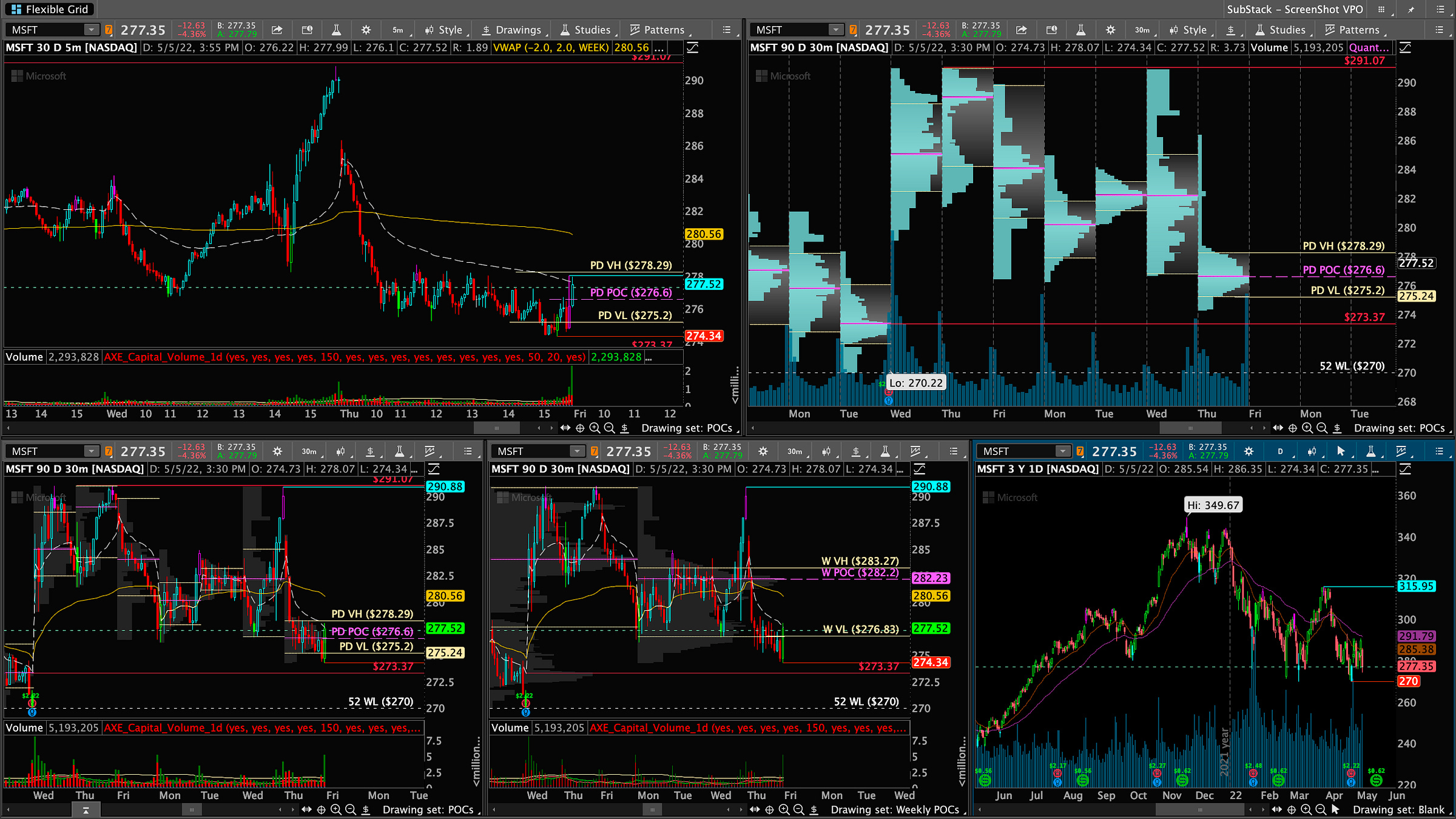 ---
AMD
After having tremendous earnings a few days ago the gains were given up quite fast. However, it has been a little harder to pull down AMD compared to the other stocks.

Tomorrow game plan:
OPEN Above POC - 93.86 > we closed right at POC .01 cent higher. If we manage to hold it overnight and move up we can retest VH at 96.62 which will keep us above the weekly POC indicate a bullish sign of hope for AMD and other chips like NVDA QCOM etc.
OPEN Below POC - 93.86 > as we sit right above POC we could easily gap down overnight if futures turn down heavy. If so, watch for a retest of 93.86 to break and hold. If so use ABOVE POC scenario above. If we reject we will revisit LOD 92.16 then 90.84 possibly

TWO KEY LEVELS 92.16 / 91.75 Level -
92.16 - is the VL of the 5/4 session exactly where we bounced today. Could it hold if not we will retest 91.75
91.75 - highlighted on the chart (middle box bottom row) it acted as resistance 2x and then became support as we bounced off it earlier this week.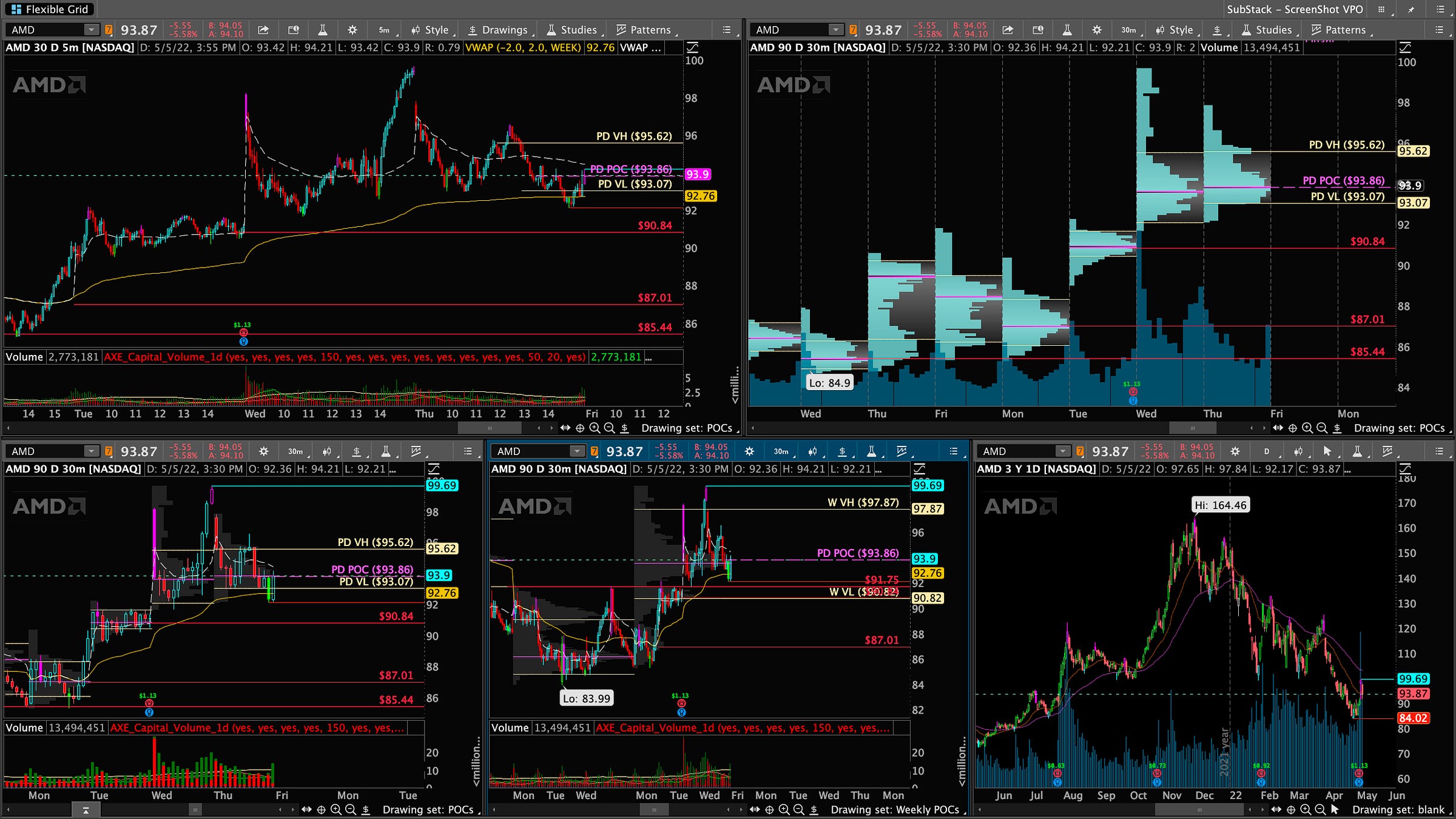 ---
NVDA
Not even a double top just straight down yet managed to close right below POC .05 cents away.

Tomorrow game plan:
OPEN Above POC - 188.49 > If we manage to get above it by open we could revisit 190.58 but sellers may be around that 200 level so a clean break hold and retest bounce would be key to go anywhere back above 200.
OPEN Below POC - 188.49 > We slide down to 186.02 and below that we can easily go for 184.95. Some support has been found there if you look at the bottom left picture and bottom middle picture. We double bottomed there.

KEY LEVEL - 185.32 - Top right picture - you will notice that level was a major POC from a few sessions ago as we bounced off it a few times already. So it is imperative we hold otherwise we can slide down to 178.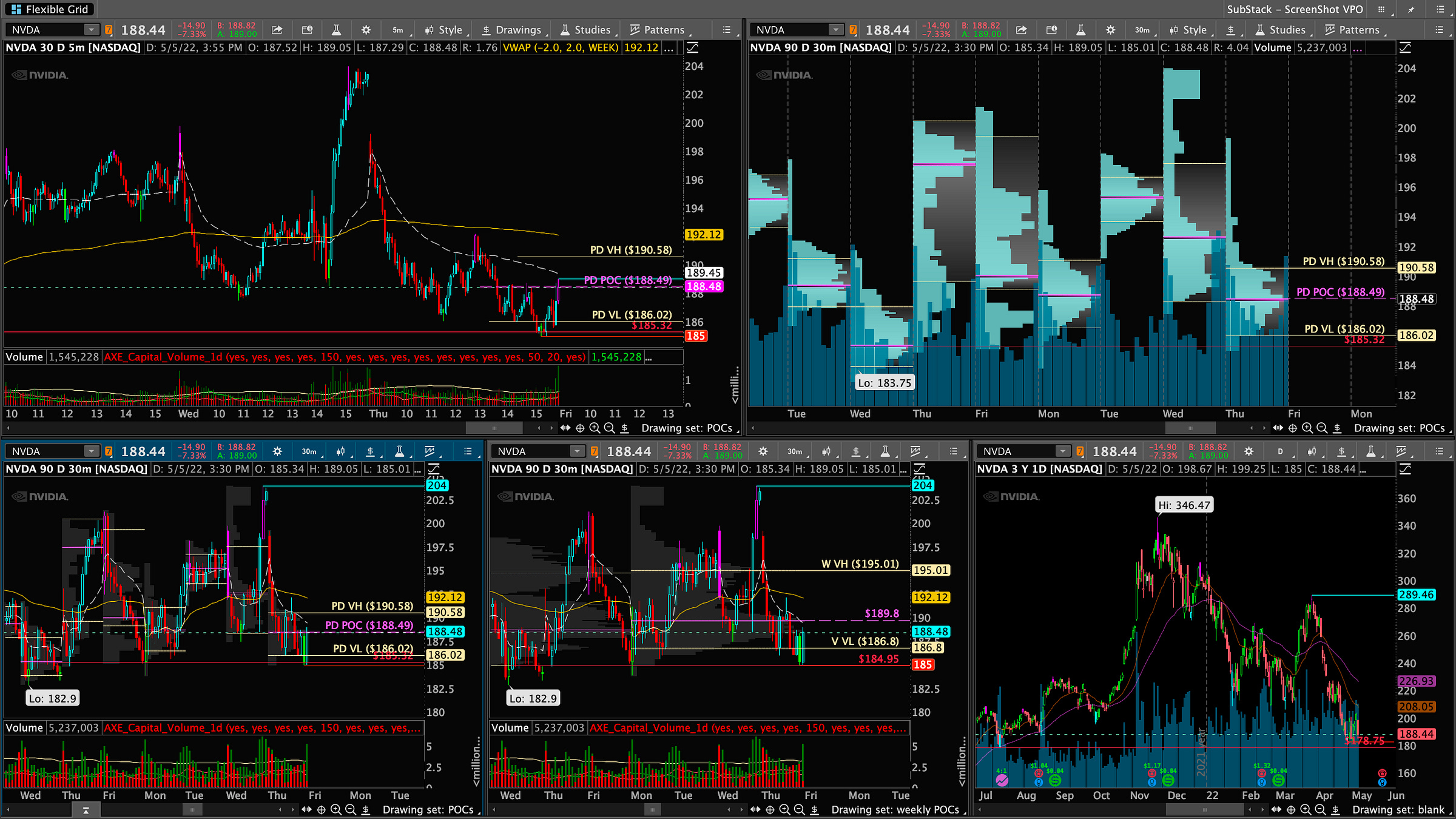 ---
AMZN
Not looking good for amazon and don't see a major relief and that gap being filled on daily anytime soon if the market doesn't shape up and turn around fast. We managed to close right below POC of today after rejecting it several times which does not indicate strength into tomorrow.

Tomorrow game plan:
OPEN Above POC - 2,332.76 > If we happen to gap above it we could pull back and retest it for support. If we bounce from it a move to VH 2,355.91 would be first level to watch for.
OPEN Below POC - 2,332 > we will be sure to revisit lows of 2300 and soon 2250 level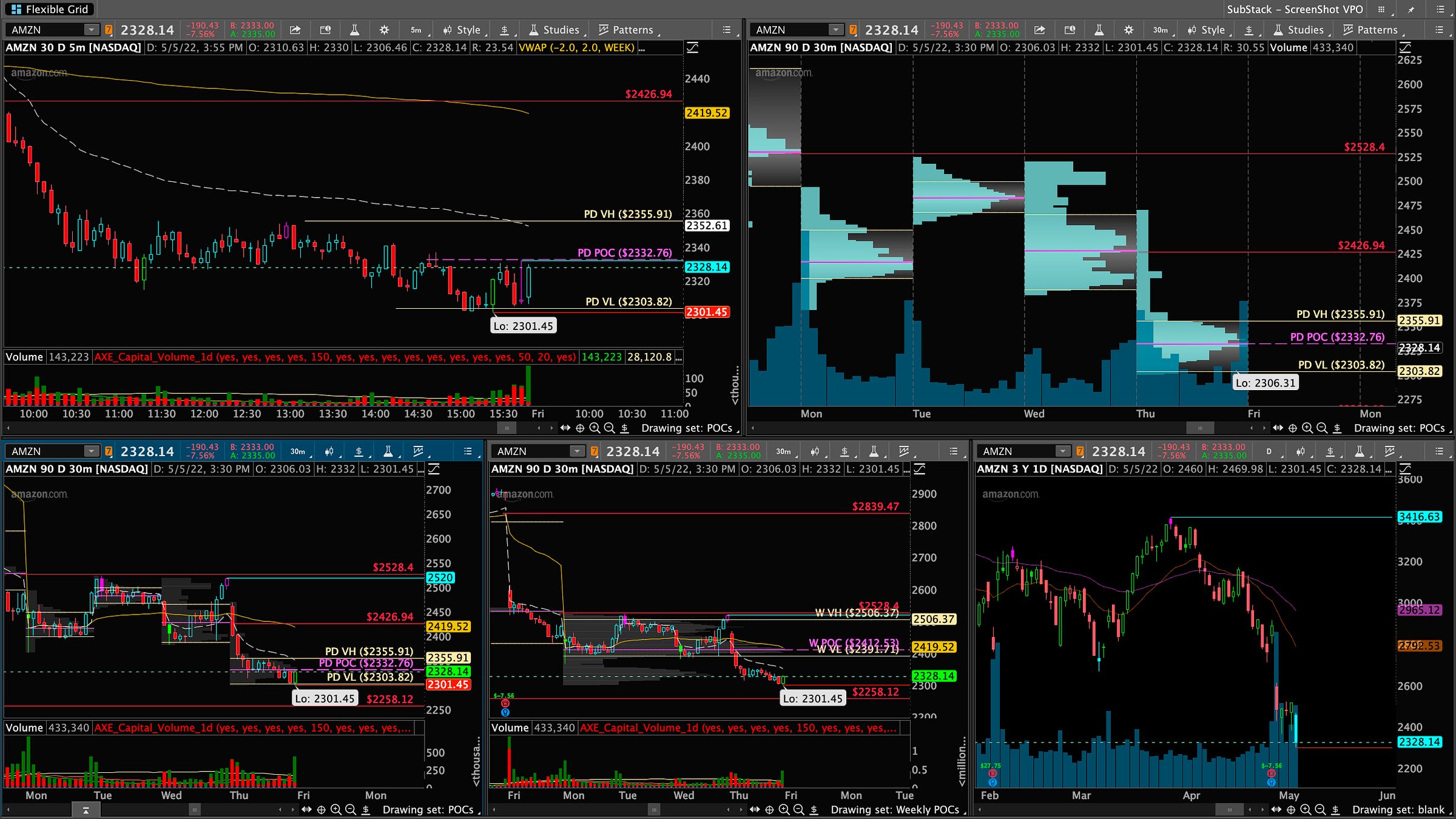 ---
TSLA
The almighty TESLA pulled back quite heavy today. Besides the fact Elon may be selling shares of TSLA to buy TWTR let's look at the technicals. Weak close below POC 880.76.
Tomorrow game plan:
OPEN Above POC - 880.76 > we can work our way back up to the 900 level and hopefully close above 908 which is weekly POC which would be a strong close. Sellers may be heavy at 900 level
OPEN Below POC - 880.76 > below we will be sure to retest the 857 level. If you look at middle bottom pic - the previous weekly VL 860.32 seems to be a strong support for tesla. Below that we could revisit 820 and 800s.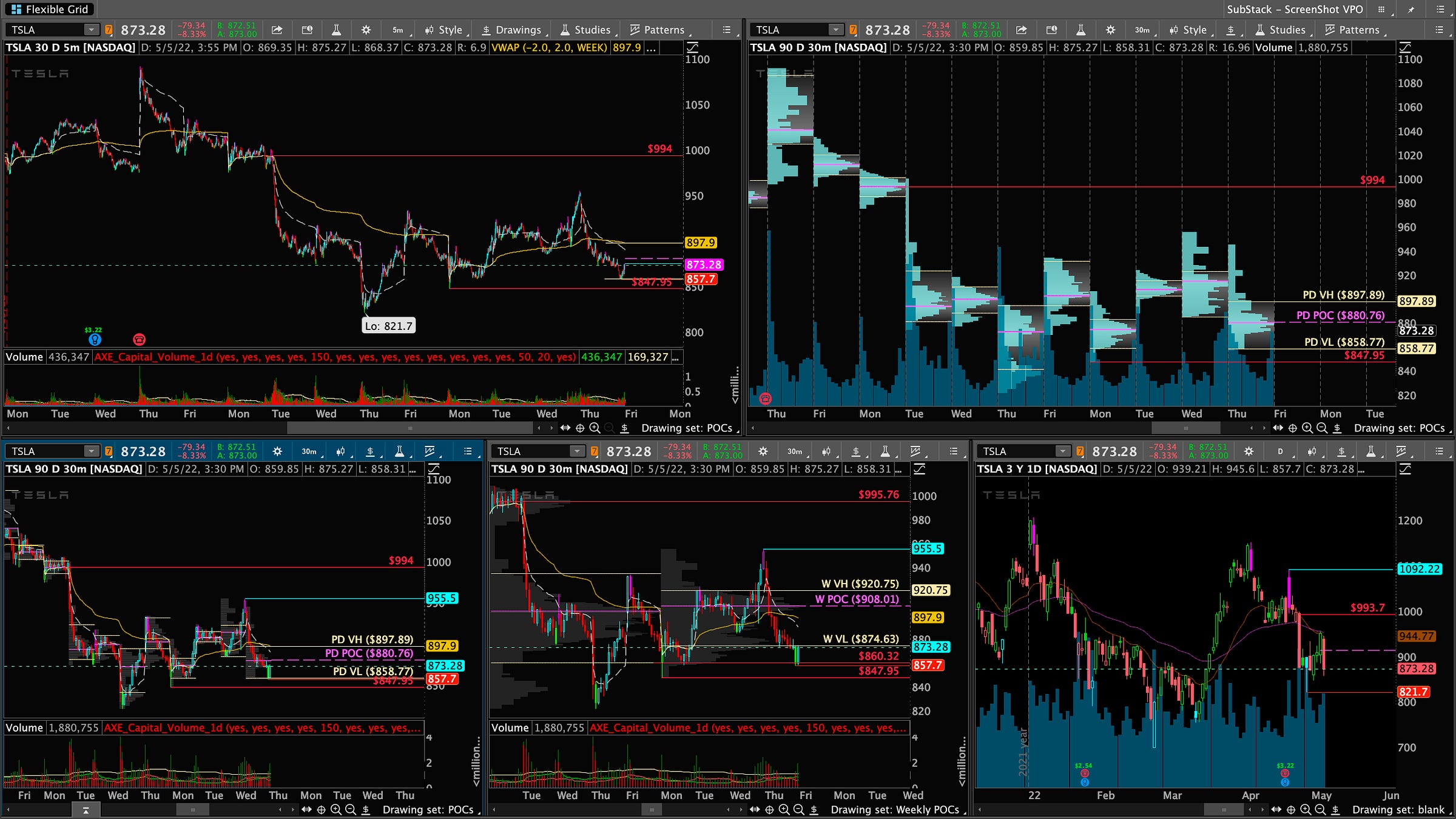 ---
If you enjoyed this sub stack I will be sure to post each daily a review of the market! Please share and subscribe!
Thanks for reading PHOENIX Capital Newsletter! Subscribe for free.
---
Disclaimer: This newsletter is not trading or investment advice, but for general informational purposes only. This newsletter represents my personal opinions which I am sharing publicly as my personal blog. Futures, stocks, bonds trading of any kind involves a lot of risk. No guarantee of any profit whatsoever is made. In fact, you may lose everything you have. So be very careful. I guarantee no profit whatsoever, You assume the entire cost and risk of any trading or investing activities you choose to undertake. You are solely responsible for making your own investment decisions. Owners/authors of this newsletter, its representatives, its principals, its moderators and its members, are NOT registered as securities broker-dealers or investment advisors either with the U.S. Securities and Exchange Commission, CFTC or with any other securities/regulatory authority. Consult with a registered investment advisor, broker-dealer, and/or financial advisor. Reading and using this newsletter or any of my publications, you are agreeing to these terms. Any screenshots used here are the courtesy of Think or Swim. I am just an end user with no affiliations with them.